Tony Awards TV Viewership Down 10 Percent Despite Record Breaking Broadway Season
This Year's Tony Awards Had A Record Low Viewership, While The Broadway Season Set Records In Attendance And Box Office Grosses.
---
Broadway Grosses And Attendance Up By Over 7 Percent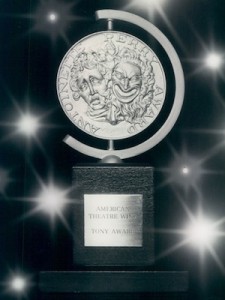 In the 2014 to 2015 Broadway season, 37 new productions opened. These included 15 musicals, 10 of which were new and 5 of which were revivals, as well as 20 plays, 11 of which were new and 9 of which were revivals. This is in addition to two special engagements.
Across the board, the industry yielded $1.37 billion dollars, which is a 7.6% increase from last year's gross of $1.27 billion dollars. On top of that, total attendance reached 13.1 million people, up 7.3% from last year's total attendance of 12.2 million people.
Despite Record-Breaking Year, Tony Viewership Is Down
Though the number of shows was down to 37 from 44 the year before, that is actually a positive sign, as it shows that the shows that did go up stayed up more successfully, leading to less turnover. With regards to the sheer number of shows running on a weekly basis, the number of total playing weeks increased by 8.7% from the previous season.
Despite these record-breaking figures, the greatest theatre event of the season on broadcast television – the Tony Awards on CBS – had remarkably low TV viewership. According to Nielsen, the event pulled 6.35 million viewers, which is down by 10% from the year before. In comparison, the Golden Globes, often considered the Oscar's poor cousin, brings in about 20 million viewers.
NBA Conflict Overstated In The Press
When Variety reported on this strange contradiction, its headline proclaimed that the Tony Awards "flirted" with record lows "opposite big NBA finals," which were shown on rival station NBC. However, this is simplifying the facts. First of all, this was only Game 2 of the NBA Finals.
If it were nearing the end of the finals, this may be more of an explanation for the low Tony viewership. Furthermore, the core demographic for theatre awards ceremonies and NBA basketball games couldn't be less overlapping. The only justification for this could be households where there were conflicting interests, such as wives wanting to watch the Tony Awards and husbands wanting to watch the sports game.
Hosts Lack Major Star Power
In addition, the Tony Awards began at 8:00pm, and the basketball game didn't begin until 9:00pm. That first hour also includes the opening number, traditionally one of the more exciting elements to watch, as well as some of the major awards. Therefore, the real reason may have more to do with other factors.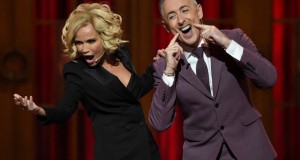 One major difference between the 2015 Tony Awards ceremony and the 2014 Tony Awards ceremony is that this year, the hosts were Alan Cumming and Kristin Chenoweth, whereas last year the host was Hugh Jackman. From the Broadway box office reports, it is clear that Hugh Jackman is a major attraction, as both The River and Hugh Jackman: Back on Broadway performed excellently in terms of ticket sales.
Hugh Jackman Was The Major Attraction
This year's hosts, though certainly big names on Broadway and with lists of screen credits that are nothing to scoff at, are arguably less big stars. Also, it is possible that having two hosts diluted the interest in the hosting position.
Whereas the decision to have two co-hosts may have been an effort to make up for each individual not being a big enough star, the result may have been the opposite: that two hosts are inherently less interesting than one. The Broadway League could be tempted to bring in someone more mainstream who is also funny, but it is doubtful that Ricky Gervais, Amy Poehler or Tina Fey would be expected to host any time soon.
Increased Interest In Seeing Live Theatre
Furthermore, the contradiction between an excellent Broadway season and low Tony Award viewership may be explained by the fact that there has been an increased interest in seeing live theatre, but the fan aspect of watching the awards ceremony may have not increased in kind.
There were also complaints about this year's broadcast, such as the Dramatists Guild's statement that they were increasingly dismayed that key awards, such as Best Book and Best Score, were not shown live on the telecast. In any case, it is excellent for Broadway that more people went to the theatre this past season, and perhaps next year more will tune in for the awards.