Tom Stoppard's "Travesties" Opens to Rave Reviews
Tom Stoppard's Travesties Opened to Rave Reviews in a Roundabout Theatre Company Production Transferred From London and Directed by Patrick Marber.
---
Revival of Tom Stoppard Play Directed by Patrick Marber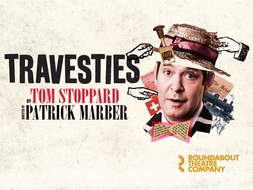 On April 24, 2018, Travesties opened at the American Airlines Theatre, where it had been running in previews since March 29, 2018. This production was produced in association with Chocolate Factory Productions and Sonia Friedman Productions, following a production in London that transferred across the Atlantic. This revival is directed by Patrick Marber, whose Broadway credits include writing After Miss Julie and writing and directing Closer. Travesties is a 1974 play by Tom Stoppard, the British playwright whose other works include Arcadia and Rosencrantz and Guildenstern Are Dead.

The story centers on a Henry Carr, who reminisces on his life in Zurich during World War I, interacting with James Joyce while the latter was writing Ulysses, interacting with Tristan Tzara throughout the rise of the Dada movement, and interacting with Lenin during the rise of the Russian Revolution. The production stars Tom Hollander (The Judas Kiss) as Henry Carr, reprising his performance from London, along with a cast that includes Peter McDonald as James Joyce, Seth Numrich as Tristan Tzara, Opal Alladin as Nadya, Dan Butler as Lenin, Patrick Kerr as Bennett, Scarlett Strallen as Gwendolen, and Sara Topham as Cecily.
Rave Reviews from the Top New York Critics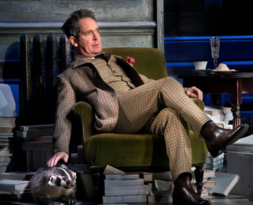 The New York Times called it "exultant" and a "show of rollicking intellect and silly stagecraft, which has been deliciously directed by Patrick Marber." Variety remarked that "this extravagant farce bristles with clever wordplay." Deadline praised the play with "its ideas on art, war, patriotism and purposeful nonsense fashioned into a nonstop tourney of wit and erudition" and Entertainment Weekly called it "a giddy, head-spinning triumph," praising Patrick Marber's direction that "keeps Stoppard's verbal ballet moving briskly, occasionally slowing the action down just enough to let the narrative (and the audience)
breathe."
Room for Growth at the Box Office
In the last week of reported box office figures, Travesties brought in a weekly gross of $319,321, which represents 48.73% of its gross potential. With a top ticket price of $147.00, the average paid admission was $62.15, and the audience was filled up to 88.3% of its capacity on average. Over the course of the 3.5 weeks of reported box office figures thus far, the show has brought in an average of 48.53% of its gross potential, and the audience has been filled up to an average capacity of 83.42%.





While Stoppard is unequivocally revered in intellectual, academic, and theatrical circles, and despite the accessible nature of his high intellect, the show is certainly a tougher brain experience than much of the fare currently on Broadway. As such, it's also a bit of a tough sell. When the Tony Award nominations, and subsequently the winners, are soon announced, Travesties may see a bit of a spike in interest, for if the reviews are any indication, this production will very likely be an awards contender.
Discount Broadway Tickets
---
---