Tom Stoppard's "Travesties" Concludes Run
Travesties Concludes At The End Of This Week With A Critically Acclaimed Run, But No Tony Awards, And Having Been A Difficult Sell At The Box Office.
---
Roundabout Theatre Company Production Wraps Up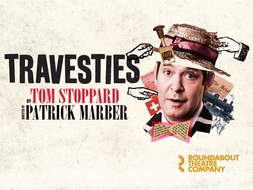 At the end of this week, on June 17, 2018, Travesties will play its final performance at the American Airlines Theatre. Produced by Roundabout Theatre Company, in association with the Menier Chocolate Factory and Sonia Friedman, Travesties is directed by Patrick Marber, with original music by Adam Cork. The story centers on Henry Carr, who reminisces on his life in Zurich during World War I, interacting with James Joyce while he was writing Ulysses, Tristan Tzara during the rise of the Dada movement, and Lenin during the Russian Revolution.

The cast is led by Tom Hollander as Carr, who traveled across the pond with the production. The rest of the cast includes Peter McDonald as James Joyce, Seth Numrich as Tristan Tzara, Opal Alladin as Nadya, Dan Butler as Lenin, Patrick Kerr as Bennett, Scarlett Strallen as Gwendolen, and Sara Topham as Cecily. Travesties is a 1974 play by Tom Stoppard, the revered British playwright whose others works include Arcadia, Rosencrantz and Guildenstern Are Dead and The Coast of Utopia.
Magnificent Reviews But No Tony Awards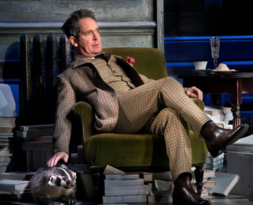 The New York Times called it "exultant" and a "show of rollicking intellect and silly stagecraft, which has been deliciously directed by Patrick Marber." Variety remarked that "this extravagant farce bristles with clever wordplay." Deadline praised the play with "its ideas on art, war, patriotism and purposeful nonsense fashioned into a nonstop tourney of wit and erudition" and Entertainment Weekly called it "a giddy, head-spinning triumph," praising Patrick Marber's direction that "keeps Stoppard's verbal ballet moving briskly, occasionally slowing the action down just enough to let the narrative (and the audience) breathe."

With such a strong critical response, the show was nominated for 4 Tony Awards, but did not win any. It was nominated for Best Revival of a Play, which went to Angels in America, the award for Best Leading Actor in a Play for Hollander, which went to Andrew Garfield for Angels, the Best Direction of a Play, which went to John Tiffany for Harry Potter and the Cursed Child, and Sound Design for Adam Cork, which went to Gareth Fry for Harry Potter.
Box Office Far from a Sell-Out
Over the weeks of reported box office figures thus far, which include all but the final week of performances, Travesties has brought in an average of 56.32% of its gross potential. With an average top ticket price of $221.64, the average paid admission across the run was $77.53, and the average audience capacity has been 82.06%. As such, the show has been playing to audiences with room for growth, both in terms of their numbers and their ticket prices. In any case, over 50,000 people will have had the chance to see this marvelous production in New York by the time the run is through, which in itself is certainly a victory.