Tom Stoppard's "Travesties" Begins Previews
A Revival of Tom Stoppard's Travesties Began Previews at the American Airlines Theatre in a Roundabout Theatre Company Production, Directed by Patrick Marber and Starring Tom Hollander.
---
Roundabout Theatre Company Mounts Transfer from London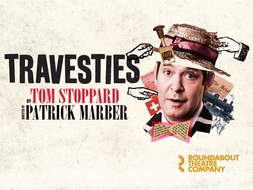 On March 29, 2018, Travesties began previews at the American Airlines Theatre, ahead of an opening night scheduled for April 24. This is the first Broadway revival since the premiere in 1975, when the show won the 1976 Tony Award for Best Play. Tom Stoppard wrote Travesties in 1974, and as such it is one of his early to mid career works.
Prior to then, he had written Rosencrantz and Guildenstern are Dead in 1966 and Jumpers in 1972, both of which played on Broadway, among many others. Since then, he has gone on to write such magnificent works which have been produced on Broadway, including Dirty Linen & New-Found-Land (1977), Dogg's Hamlet, Cahoot's Macbeth (1979), Night and Day (1980), The Real Thing (1984), Artist Descending a Staircase (1989), The Real Inspector Hound and The Fifteen Minute Hamlet (1992), Arcadia (1995), The Invention of Love (2001), The Coast of Utopia trilogy (2006-2007), and Rock 'n' Roll (2007), in addition to several revivals.
Travesties' Road To Broadway Revival
This production of Travesties is directed by Patrick Marber, a British director who previously directed two shows on Broadway: After Miss Julie (2009) and Closer (1999), which he also wrote. Travesties is a transfer from London, where it played the Menier Chocolate Factory from September to November 2016, breaking box offices records and becoming the first play in that company's history to sell out before beginning performances.
The show then transferred to the West End, playing the Apollo Theatre from February to April 2017.
Tom Hollander Stars as Henry Carr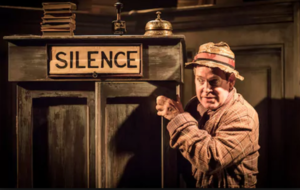 In this production of Travesties, the protagonist, Henry Carr, is played by Tom Hollander. Hollander's film and television credits include Absolutely Fabulous, Martha, Meet Frank, Daniel and Laurence, Wives and Daughters, Harry, Cambridge Spies, Gosford Park, The Lost Prince, and Pride & Prejudice.
On the stage, he was on Broadway in the 1998 production of The Judas Kiss, with extensive London stage credits including The Way of the World, an all-male production of As You Like It and The Government Inspector. More recently, he starred in Georges Feydeau's A Flea in Her Ear at the Old Vic in 2010, and for his performance in the Menier Chocolate Factory production of Travesties, he was nominated for the Olivier Award for Best Actor, among the five nominations that production received.
Rounding Out the Cast
On Broadway, the cast also includes Peter McDonald (making his Broadway debut) as James Joyce, Seth Numrich (Golden Boy, War Horse) as Tristan Tzara, Opal Alladin (Hedda Gabler, On Golden Pond) as Nadya, Dan Butler (Twentieth Century, Biloxi Blues) as Lenin, Patrick Kerr (You Can't Take It With You, The Ritz) as Bennett, Scarlett Strallen (A Gentleman's Guide to Love and Murder, Mary Poppins) as Gwendolen, and Sara Topham (Thérèse Raquin, The Importance of Being Earnest) as Cecily.
Room for Growth at the Box Office For Travesties
In its first partial week of four preview performances, the show brought in a weekly gross of $151,212, which represents 46.2% of its gross potential. With a top ticket price of $147, the average paid admission was $61.27, and the audience was filled up to 85.2% of its capacity on average.
This is far from the best this show can do, but it is also still early days in terms of word of mouth. After the show opens on April 24, 2018, it has almost two months to gain steam before the scheduled closing date of June 17, 2018.