"Three Tall Women" Opens to Rave Reviews
Three Tall Women opened to positive reviews at the Golden Theatre, directed by Joe Mantello, starring Laurie Metcalf, Glenda Jackson, and Alison Pill.
---
Edward Albee Play Revived with Direction by Joe Mantello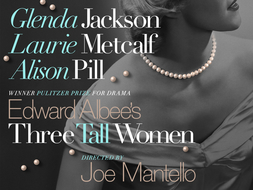 On March 29, 2018, Three Tall Women opened at the John Golden Theatre, where it had been running in previews since March 1, 2018. This production is the Broadway rendition of this Edward Albee play, first written in 1994, when it won the Pulitzer Prize for Drama. That year, for the New York and London productions, it also won the Evening Standard Award for Best Play and Best Actress (Maggie Smith), the Drama Critics Circle Award for Best Play, the Lucille Lortel Award for Outstanding Play, and the Outer Critics Circle Award for Best Off-Broadway Play. This production is directed by Joe Mantello, whose Broadway directing credits include The Humans, An Act of God, Blackbird, Airline Highway, The Last Ship, Casa Valentina, I'll Eat You Last: A Chat With Sue Mengers, The Other Place, and The Glass Menagerie. Albee's extensive playwriting credits include A Delicate Balance, Who's Afraid of Virginia Woolf?, Seascape, The Goat or Who is Sylvia?, The Lady from Dubuque, and The Man Who Had Three Arms. In this production, the role of "A" is played by Glenda Jackson (The Persecution and Assassination of Marat as Performed by the Inmates of the Asylum of Charenton Under the Direction of the Marquis de Sade; Rose; Strange Interlude; Macbeth), the role of "B" is played by Laurie Metcalf (A Doll's House Part 2, Misery, The Other Place, Brighton Beach Memoirs, November, My Thing of Love), and the role of "C" is played by Alison Pill (The House of Blue Leaves, The Miracle Worker, Mauritius, The Lieutenant of Inishmore).
Excellent Reviews from the Major Critics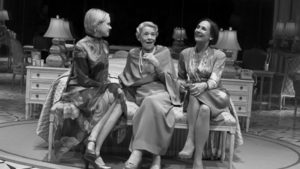 In his review of Three Tall Women, Jesse Green from The New York Times raved about Glenda Jackson's performance in "a role that's big enough to need her," and that this Broadway debut of this play was "worth the wait." He concludes that the play, "despite its frailties and wrinkles has aged beautifully, into a burning, raving classic." Greg Evans from Deadline praised Joe Mantello's "superb staging," and states that "Albee's Pulitzer Prize-winning late-career masterpiece has been given the loving, impeccable production that Albee apparently thought was beyond Broadway's reach." David Rooney from The Hollywood Reporter stated that "stage acting doesn't get any better" than Glenda Jackson's in this piece, lauding this "brittle but moving play about death and self-knowledge," and that in this production, the writing "feels revitalized, which makes this 1994 Pulitzer-winning drama a fine choice for the first Broadway production of his work since his death in 2016." Marilyn Stasio from Variety says that watching Glenda on that stage was like "looking straight into the sun," because "it's the voice that really thrills." Allison Adato from Entertainment Weekly was a bit less enamored with the production, saying that it's "far from an easy evening of theater," and that "many of the hallmarks of great Albee — pitch black humor, verbal takedowns, delightfully indulgent cynicism — are initially in short supply here."
Good But Not Great Box Office
In the last week of reported box office figures, the week ending April 1, 2018, Three Tall Women brought in $599,626, which represents 73.79% of its gross potential. In the five weeks of reported box office figures thus far, the average percentage reached of box office gross potential has been 72.59%. With an average top ticket price of $287.40, the average paid admission thus far has been $97.74, and the audience has been filled up to 96.14% of its capacity on average. Therefore, this is far from a sell-out production, but there is a fair amount of interest for this revival, seeing the Broadway stage for the first time. In general, these numbers are not bad for a drama with actresses of renown. The play is scheduled to run until June 24, 2018.
Discount Broadway Tickets
---
---