"Three Tall Women" Begins Broadway Previews
Edward Albee's Three Tall Women has begun previews on Broadway, starring Glenda Jackson, Alison Pill, Laurie Metcalf, Joseph Medeiros, and directed by Joe Mantello.
---
Edward Albee Play Finally Arrives on Broadway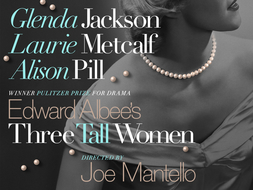 On March 1, 2018,
Three Tall Women
began previews at the John Golden Theatre, ahead of its opening night scheduled for March 29, 2018. The production is currently scheduled to run until its closing date of June 24, 2018. This play is written by Edward Albee, the vastly accomplished playwright whose other works include
A Delicate Balance
,
Who's Afraid of Virginia Woolf?
,
Seascape
,
The Goat or Who is Sylvia?
,
The Lady from Dubuque
, and
The Man Who Had Three Arms
. Albee's career has been long and varied, with his first New York production in 1960 of
The Zoo Story
. He was elected as a fellow of the American Academy of Arts and Sciences in 1972, and the American Theatre Hall of Fame in 1985. His honors include the PEN/Laura Pels International Foundation for Theatre Award, the Gold Medal in Drama from the American Academy, the Kennedy Center Honors, the National Medal of Arts, and a special Tony Award for Lifetime Achievement in 2005. In all this time, his play
Three Tall Women
did not arrive on Broadway, until now. Sadly, Albee passed away recently on September 16, 2016, and thus this production is not something he will be able to see with his own eyes. Nevertheless, he did oversee the production of
Three Tall Women
all over the world. The show had its world premiere at the English Theatre in Vienna, Austria in 1991, directed by Albee himself. The New York debut of this play was Off-Broadway at the Vineyard Theatre in 1994, and it had its West End premiere at the Wyndhams Theatre in London in fall 1994, with a revival shortly thereafter at the same theatre in 1995. Finally, the Broadway production is the long-awaited destination of this celebrated play, which won the Pulitzer Prize for Drama in 1994.
An Excellent Cast of Incredibly Accomplished Performers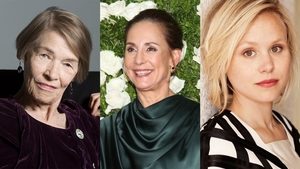 Three Tall Women
, as its title implies, stars three women, who, depending on casting, may or may not be that tall. In this case, their height is irrelevant, as their list of accomplishments is certainly long. The characters of these three women in the play are called just A, B, and C. A is written to be a woman in her 90s, who is thin, proud, and wealthy, with a mild case of Alzheimer's disease. In this production, she is played by Glenda Jackson, whose Broadway credits include the 1965 production of
The Persecution and Assassination of Marat as Performed by the Inmates of the Asylum of Charenton Under the Direction of the Marquis de Sade
, as well as
Rose
,
Strange Interlude
, and
Macbeth
. In addition, she has an impressive film career including two Academy Award wins: for
Women in Love
in 1970 and
A Touch of Class
in 1973. The character of B is a 52 year-old version of A, who is cynical about life, and in the story, she is working for A, which she does not enjoy very much but does appreciate for its learning opportunities. In this production, B is played by Laurie Metcalf, whose extensive Broadway credits include
A Doll's House Part 2
,
Misery
,
The Other Place
,
Brighton Beach Memoirs
,
November
, and
My Thing of Love
. On screen, she is also incredibly prolific, with her recent role in
Lady Bird
earning her an Academy Award nomination for Best Supporting Actress. The character of C is a 26 year-old version of B, who is present on behalf of A's law firm because A has neglected her paperwork and such matters. She is full of youth and the self-assurance that comes with it. In this production, C is played by Alison Pill, whose Broadway credits include
The House of Blue Leaves
,
The Miracle Worker
,
Mauritius
, and
The Lieutenant of Inishmore
, the last of which earned her a Tony Award nomination for Best Featured Actress in a Play. On screen, she is well known for
Confessions of a Teenage Drama Queen
,
Milk
,
Scott Pilgrim vs. the World
,
Midnight in Paris
,
In Treatment
,
The Newsroom
, and
American Horror Story: Cult
. Finally, there is a fourth character in the play, who is referred to as The Boy. He is the son of the three women, and does not speak throughout the play. In this production, he is played by Joseph Medeiros, whose credits include
Groundhog Day
,
Doctor Zhivago
,
Matilda the Musical
, and
Irving Berlin's White Christmas
.