The Snow Geese Ends Its Broadway Run Today
The New Sharr White Play The Snow Geese Concludes Its Limited Broadway Engagement Run Starring Mary-Louise Parker
---
The Snow Geese Concluded Limited Engagement Run On Broadway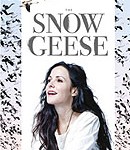 The Manhattan Theatre Club production of the new Sharr White play The Snow Geese concludes its limited Broadway engagement at the Samuel J. Friedman Theatre today.
The production first began previews on October 1 and opened on October 24. Set in 1917, in a country lodge in New York, The Snow Geese is a poignant and often funny drama that charts how a well-to-do family copes with a change in their fortunes following the death of their patriarch.
Mary-Louise Parker Stars
The play stars Mary-Louise Parker as the mother of the family, and co-stars Evan Jonigkeit and Brian Cross as her two very different sons. Victoria Clark and Danny Burstein also star, and Daniel Sullivan served as director of the production.