"The Iceman Cometh" Opens to Positive Reviews
The Iceman Cometh Opened to Positive Reviews in a Revival Directed by George C. Wolfe and Starring Denzel Washington as Theodore "Hickey" Hickman.
---
Denzel Washington Stars in Eugene O'Neill Revival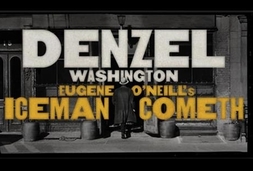 On April 26, 2018,
The Iceman Cometh
had its official opening night at the Bernard B. Jacobs Theatre, where it had been running in previews since March 23, 2018. As such, the revival of this 1939 play by Eugene O'Neill just made the cut-off for eligibility for this year's Tony Awards consideration. The play, which is directed by George C. Wolfe (
Caroline or Change
), stars one of the most beloved performers of stage and screen working today: Denzel Washington.
On Broadway, Washington's previous credits include
Fences
(Tony Award for Best Actor), as well as
A Raisin in the Sun
,
Julius Caesar
, and
Checkmates
. His many screen credits include his Academy Award winning performances in
Training Day
and
Glory
, as well as countless others including
Malcolm X
and
Remember the Titans
) The revival's cast also includes Bill Irwin, Colm Meaney, David Morse, Tammy Blanchard, Carolyn Braver, Austin Butler, Joe Forbrich, Nina Grollman, Thomas Michael Hammond, Neal Huff, Danny Mastrogiorgio, Dakin Matthews, Danny McCarthy, Jack McGee, Clark Middleton, Michael Potts, Reg Rogers, and Frank Wood.
Generally Positive Reviews from the Top Critics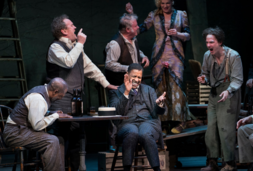 The New York Times complimented Wolfe's "energetic interpretation," as well as the "fine rogue's gallery of performers who gladden the heart whenever they show up on a New York stage." Entertainment Weekly wondered, "With seven hours of angels and five hours of wizards to take in on Broadway this season, can a case be made for four hours of end-of-the-line drunks? Yes, and a good one." Variety was a bit more tepid in her response, stating that Washington is "well cast" and is pleased that "George C. Wolfe has trimmed the play to a reasonable length," but states that "this is still a long play with a lot of moving parts."
Deadline was also a bit mixed, stating that "Iceman is legendarily long-winded, repetitious, even grueling," and that "Washington's below-surface intensity caught so effectively by the camera is of little use here." Finally, The Hollywood Reporter wasn't the biggest fan of the play, stating that its "bleak vision of men drowning their deferred plans in cheap booze can be as prolix as it is poetic," and while he praised the "talented ensemble," he felt that the show could have used a longer preview period to find its ideal balance.
8 Tony Nominations and Strong Box Office
As recently announced, The Iceman Cometh will be a strong contender at this year's Tony Awards ceremony, having been nominated for 8 Tony Awards. This is the fourth highest number of nominations received by any show (with several ties adding to the competition). These nominations were for Best Revival of a Play, Denzel Washington for Best Performance by a Leading Actor in a Play, David Morse for Best Performance by a Featured Actor in a Play, Santo Loquasto for Best Scenic Design of a Play, Ann Roth for Best Costume Design of a Play, Peggy Eisenhauer and Jules Fisher for Best Lighting Design of a Play, Dan Moses Schreier for Best Sound Design of a Play, and George C. Wolfe for Best Direction of a Play.





As for the box office, the revival is off to a mighty start. Over the course of the six weeks of reported box office figures thus far, The Iceman Cometh has brought in an average of 88.90% of its gross potential, which is an excellent beginning for a hefty revival, spurred on by the marquis power of Denzel Washington.
Discount Broadway Tickets
---
---