"The Heidi Chronicles" Wraps Up Its Broadway Run Early
The Heidi Chronicles Played Its Final Performance On May 3, 2015, Closing After 80 Performances Including Previews. Elisabeth Moss Was Nominated For A Tony.
---
Difficulty Catching Hold At The Box Office
On February 23, 2015, a revival of Wendy Wasserstein's 1989 play The Heidi Chronicles began previews at Broadways Music Box Theatre. Following the show's opening on March 19, 2015, it received generally very positive reviews.
The play is considered a modern feminist masterpiece, traversing through the life of a woman named Heidi Holland, from her school days to her later career as an art historian, dealing with issues ranging from motherhood to settling down with a partner.
Elisabeth Moss Highly Praised In "The Heidi Chronicles"
The 2015 revival starred Elisabeth Moss, who is well known for her role as Peggy Olson on "Mad Men," in addition to stage roles such as Speed-the-Plow on Broadway and The Children's Hour in the West End. Moss' performance was highly praised in particular, and her co-stars Jason Biggs (American Pie, "Orange is the New Black") and Bryce Pinkham (A Gentleman's Guide to Love and Murder) also were reported to have given excellent performances.
The show was directed by Pam MacKinnon (Who's Afraid of Virginia Woolf?, Clybourne Park), and produced by Jeffrey Richards and Jerry Frankel. Nevertheless, despite the good notices, this was an example of a play merely failing to catch hold at the box office, with audience members inundated with too many other exciting choices.
Moss Nominated For A Tony Award
In an unusual move, the play announced its closing prior to the disclosure of the Tony Award nominations. In any case, Elisabeth Moss was nominated for the award for Best Performance by an Actress in a Leading Role in a Play. She is going up against Helen Mirren from The Audience, Geneva Carr from Hand to God, Carey Mulligan from Skylight, and Ruth Wilson from Constellations.
That race is not a clear one, and any of the women may end up taking home the award. Still, that is the only Tony nomination that the play received, as it failed to receive the coveted honor of being nominated for Best Revival of a Play. Also, Pam MacKinnon, who has been previously recognized by the Tony committee, did not receive a nomination for Best Director of a Play.
Tony Win Would Not Help Sales
If Elisabeth Moss wins, therefore, it cannot help to spur sales for the already closed production. Still, it would be a great honor for the highly talented actress. The original Broadway production, which was mounted in 1989 to 1990, received the Tony Award for Best Play, and Joan Allen in the role of Heidi Holland was nominated for the Tony Award for Best Actress in a Play as well.
Closing on May 3 After 80 Performances Total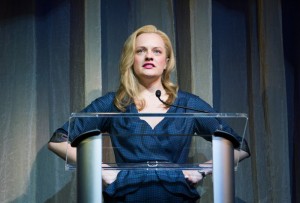 On April 21, 2015, the producers announced that the last performance of the 2015 revival of The Heidi Chronicles would take place on Sunday, May 3, 2015. It closed having played 27 preview performances followed by 53 regular performances, totaling 80. In contrast, the original production played 630 performances.
This revival had a capitalization between $3.5 million and $4 million, and it will close having failed to recoup this investment. The total gross that the show brought in was not much higher than $2.5 million, but weekly running costs took a large chunk of that.
Financial Flop With Critical Success
The highest weekly gross that the show managed to accumulate was in the final week, ending May 3, 2015, when the show brought in $378,471. This is only slightly higher than the second-highest weekly gross from the week ending April 12, 2015, when the show brought in $368,596.
The show never brought in more than 42.47% of its gross potential in any given week, and the audience capacity never averaged higher than 74.7% even with heavy discounting. Therefore, this revival will go down in history as a financial flop, although it was a critical success, and it may yet have a chance to take home one Tony award as well.