"The Gin Game" Opens at the John Golden Theatre
Posted on October 22, 2015
The Gin Game opened on October 14, 2015, receiving great reviews but mediocre box office.
---
James Earl Jones and Cicely Tyson Play a Game of Gin and Wits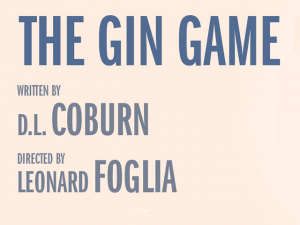 This past week, The Gin Game opened at the John Golden Theatre. The show had been running in previews since September 23, 2015, and is scheduled for a limited engagement to close on January 10, 2016. Taking place in a nursing home in the present day, the play was originally written in 1976 when it had its first production in Hollywood, California. It then transferred to Broadway in 1977, also at the John Golden Theatre. In 1978, the play won the Pulitzer Prize for Drama, and was nominated for the Tony Award for Best Play. In 1997, a Broadway revival took place at the Lyceum Theatre starring Charles Durning and Julie Harris, at which point the production received Tony Award nominations for Best Revival of a Play, Best Direction of a Play, and Best Leading Actress in a Play. This Broadway revival may be the most star-studded production yet. Both James Earl Jones and Cicely Tyson – who are the only performers in this two-hander – are veteran stars of both stage and screen. James Earl Jones won his first Tony Award in 1969 with The Great White Hope. He also won a Tony for his 1987 performance in Fences, and two Primetime Emmys in 1990 for his performances in Heat Wave and Gabriel's Fire. At age 90, Cicely Tyson is a bona fide legend. She recently won a Tony Award for her performance in the 2013 production of The Trip to Bountiful.
The Critics Are Almost Unanimous in Their Praise
Upon seeing the production, Charles Isherwood of The New York Times called the revival excellent, deeming that the actors are still in their prime even if the play is not the finest he has seen. David Rooney of The Hollywood Reporter agreed the play was slight for a Pulitzer Prize winning drama, but relished in the opportunity to see James Earl Jones and Cicely Tyson in such infectiously delightful performances. Matt Windman from AM New York was impressed that at age 84, James Earl Jones was the youngest cast member on stage, enjoying the deep accomplishments of both actors in the play. Robert Kahn of NBC New York loved the play, calling it lonesome, raw, and naturalistic, warning that it may be frightening to see such a candid view of old age but loving it nonetheless. Only Adam Feldman from Time Out New York was more restrained in his praise, finding the interchange between Tyson and Jones to be less than compelling, and the dramatic tension between them not entirely believable. Still, the overall critical response was overwhelmingly positive.
A Difficult Sell at the Box Office
Even with such huge stars on the marquee, The Gin Game hasn't been doing very well at the box office. In the last reported week of box office figures, the week ending October 18, 2015, it brought in $344,764, which represents 50.68% of its gross potential. This was only a minor increase of $3,281 from the week before, when the gross was $341,483, or 50.20% of the gross potential. The week before that was slightly better, with a gross of $351,748 or 50.62% of its gross potential. And the highest percentage reached yet of gross potential was in the first partial week of six performances, with a weekly gross of $321,528, or 53.98% of gross potential. All in all, this is a slow paced sell at the box office, and it doesn't help that they are only playing seven performances a week. Time will tell whether sales will pick up as word of mouth spreads.