"The Front Page" and "Oh, Hello" Recoup on Broadway
The Front Page And Oh, Hello Have Both Remarkably Recouped Their Investments On Broadway Shortly Before The End Of Their Runs Despite Mixed Reviews From Critics
---
Nathan Lane Major Box Office Draw For "The Front Page"
On January 9, 2017, it was announced that The Front Page, the newspaper comedy written in 1928 by former Chicago journalists Ben Hecht and Charles MacArthur, has recouped its initial capitalization of $4.875 million.
On the high end of budgets for straight plays on Broadway, this revival of The Front Page has been fortunate to be led by an extraordinary ensemble of talented and well-regarded actors, most notably Nathan Lane, John Slattery, John Goodman, Holland Taylor, and Jefferson Mays.
Lane's Fame In Theatre Is Broadway Box Office Gold
Above all, Nathan Lane is considered to be box office gold on Broadway. Unique in that his fame is derived first and foremost from the theatre, rather than the screen, Nathan Lane has blessed the box office of many productions past including The Producers, The Odd Couple, and It's Only a Play.
Like the latter, The Front Page is an ensemble piece, and the other actors have a strong attraction as well from a diverse demographic. For instance, fans of "Mad Men" will be excited to see John Slattery in the flesh, and those who enjoyed the recent Tony Award winning musical A Gentleman's Guide to Love and Murder will have become diehard Jefferson Mays fans, after witnessing his versatile, award-winning performance.
Big Names Continue To See Success On Broadway
Likewise, Holland Taylor recently had her own one-woman show in Ann at Lincoln Center, and John Goodman has amassed a following from films ranging from Bye Bye Birdie to The Big Lebowski. In recouping its initial investment just over 14 weeks into the limited engagement, which will conclude on January 29, 2017, The Front Page has become the first show to announce recoupment this Broadway season.
The lead producer, Scott Rudin, has the magic touch, or perhaps just years of worthwhile experience, that allow him to shepherd Broadway shows to profitability. In this case, he overcame the surface-level challenges that this show was written in the 1920s, is a revival that has been seen many times before, and is about the newspaper business, which isn't exactly cutting-edge material in the digital age. Nevertheless, Rudin knows how to spot potential and package a show commercially, and in this case, The Front Page is a hit.
"Oh, Hello On Broadway" Recoups As Well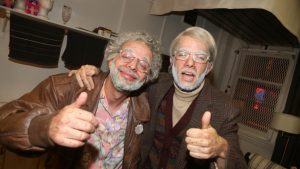 Another show has followed suit this Broadway season in announcing recoupment. Oh, Hello on Broadway, the theatrical iteration of Nick Kroll and John Mulaney's comedic bit made famous on Comedy Central's Kroll Show, has made back its $2.9 million capitalization, as announced on January 18, 2017.
Directed by Alex Timbers (Rocky, Bloody Bloody Andrew Jackson), Oh, Hello appealed to a demographic different from the average Broadway ticketbuyer, instead bringing in its own built-in audience of comedy fans.
Guest Stars Boost Ticket Sales Despite Mixed Reviews
While the two-hander had a surprisingly high budget of almost $3 million, the recoupment proves that this budget was not ill-conceived, and the show had the legs required to make it into the black. While the show received mixed reviews, with some theatre critics responding unfavorably to Kroll and Mulaney's satirical portrayal of crotchety old Upper West Siders, fans were not deterred. Boosting the success of this show were the rotating guest stars, who have included Seth Meyers, Laura Benanti, John Oliver, Tina Fey, David Byrne, Anthony Atamanuik, Jerry Seinfeld, Martin Short, Amy Schumer, Kelli O'Hara, Jason Alexander, Stephen Colbert, Conan O'Brien, and many more.
Prior to the show's closing performance on January 22, 2017, it will be filmed for future airing opportunities, with taping taking place over the course of two performances – January 19th and 20th. Oh, Hello is therefore the second play of the season to announce recoupment. It was produced by Patrick Catullo, Marcia Goldberg, Barbara Whitman, Marc Platt, and Pierce Cravens, among others.