"The Elephant Man" Begins Previews
The Elephant Man Began Broadway Previews On November 7, 2014 Starring Bradley Cooper As A Disabled Man, Based Off A Real Life Figure.
---
Bradley Cooper Stars As A Disfigured Protagonist On Broadway
On November 7, 2014, The Elephant Man began previews at the Booth Theatre. It will have its official opening night on December 7, 2014. Set in Victorian England, The Elephant Man was originally written in 1977 by Bernard Pomerance, and the original Broadway production was in 1979.
At that time, it won three Tony Awards, those for Best Play, Best Direction of a Play (Jack Hofsiss), and Best Performance by a Leading Actress in a Play (Carole Shelley).
"The Elephant Man" Directed by Scott Ellis
It also won the Drama Desk Award for Outstanding New Play, the New York Drama Critics' Circle Award for Best Play, and it was also selected for inclusion in The Burns Mantle Theater Yearbook as one of the Best Plays of 1978-1979.
In 2002, a Broadway revival starring Billy Crudup was nominated for two acting Tony Awards but won neither. This production stars Bradley Cooper as the eponymous Elephant Man (whose name is actually John Merrick), and it is directed by 6-time Tony nominee Scott Ellis. Cooper stars alongside Patricia Clarkson as Mrs. Kendal and Alessandro Nivola as Frederick Treves.
Cooper's Impressive Career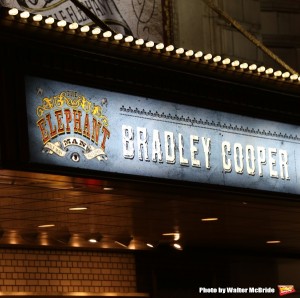 Bradley Cooper first played the role of John Merrick in a 2012 production at the Williamstown Theatre Festival. This is his second time on Broadway, having also played the roles of Pip and Theo in a 2006 production of Three Days of Rain. Also, at the 2008 Williamstown Theatre Festival, he played the role of Jake in The Understudy.
However, he is much better known for his performances on the screen. He has starred in such films as American Hustle, Silver Linings Playbook (receiving Academy Award nominations for them both), The Place Beyond the Pines, Guardians of the Galaxy, The Hangover trilogy, and many more titles.
Audiences Anxious To See Cooper On Stage
Bradley Cooper is a beloved actor, as seen by the notable box office success of The Elephant Man thus far. In its first week of four performances, it has already grossed $520,087, which represents 113.36% of its gross potential.
Furthermore, with a top ticket price of $298.00, it had an average paid ticket admission of $163.45, which represents little to no discounting. Of the 3,096 total seats across those four performances, it sold a miraculous 3,182 of them (accounted for by the premium ticket sales).
The Story Of The Elephant Man
It is clearly the star attraction of Bradley Cooper, rather than the flashy subject matter, that has drawn such numbers to the box office. However, though it may not be superficially engaging, the storyline of the play is also excellent. It is based on the real life story of Joseph Merrick, a 19th century British man who suffered from extreme bodily deformity.
He became a star of the freak show circuit, until a doctor takes him under his wing to study. He ends up being amazed by Merrick's intellect, faith, and longing for love and loyalty.
Based On Real Life Joseph Merrick
A romantic subplot emerges when Dr. Treves introduces Merrick to the beautiful Mrs. Kendal, who also sees his truly touching nature. However, Mrs. Kendal is not single, and there is a complex underlayer to their friendship, as she wants to protect him from the corruption of the real world.
The Elephant Man is therefore a love story, but it is also the story of a man cut apart from the universe yet who still manages to maintain a virulent humanity. Interestingly, The Elephant Man is always performed without extravagant special effects stage makeup, so that Bradley Cooper displays the deformity through physicality alone.