"The Children" Opens to Mostly Positive Reviews
The Children Has Opened To Generally Positive Reviews, But The Box Office Still Remains In Bad Shape As The Show Is A Tough Sell.
---
Lucy Kirkwood Play Transfers From London's Royal Court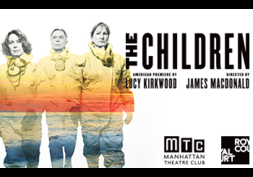 On December 12, 2017, The Children opened at the Samuel J. Friedman Theatre, where it had been playing in previews since November 28, 2017. This new play by Lucy Kirkwood had its world premiere at London's prestigious Royal Court Theatre, directed by James MacDonald and starring Ron Cook, Francesca Annis, and Deborah Findlay.
After earning positive reviews in London, the Manhattan Theatre Club decided to include the show in their season this year in New York, mounting it in their Broadway venue.
"The Children" Faces Challenges
With the same cast and creative team, the show was a bit of an uphill battle on the commercial playing field of Broadway. Although all three actors have been on Broadway before, their names are not alone necessarily a ticketbuying incentive for the majority of New York theatregoers. Francesca Annis has previously been on Broadway in two separate productions of Hamlet, in 1969 as Ophelia, and in 1995 as Gertrude.
For his only previous Broadway credit, Ron Cook was in yet another production of Hamlet, in 2009 as Polonius and the First Gravedigger. Of the three actors, only Deborah Findlay has even been on Broadway before in a show other than Hamlet, although it does share assonance with that Shakespeare play; she was in the 1997 production of Stanley.
Generally Positive Reviews From Critics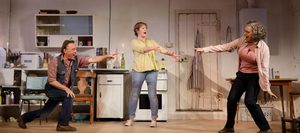 Upon seeing the show ahead of its opening night, Jesse Green from The New York Times declared the show a New York Times Critics' Pick, calling it "completely successful as an eco-thriller," while also complimenting the play's "clever construction."
David Canfield from Entertainment Weekly also loved the show, calling it "appropriately post-apocalyptic" for 2017, and also enjoying how the show reminds us that even in such dystopic times, the world is full of "bickering and dancing and those long conversations that never really seem to go anywhere."
Reviews Are Hauntingly Good
Joe Dziemianowicz from the New York Daily News also gave the play a thumbs up, calling it a "slow-moving but ultimately thought-provoking and haunting drama." Sara Holdren from Vulture was another fan, calling it "potent" and "aching," and deeming the ensemble a "triple threat."
Steven Suskin from the Huffington Post was a bit less enamored with the show, calling it "another doomsday play" and acknowledging that the "sturdy" show manages to "hold interest for its almost two-hour running time," but states that there is "no single show-stealing tour de force." Nevertheless, Frank Scheck from the Hollywood Reporter expressed disdain for the production, saying there is "something seriously off" about the play, as the "evening takes too long" to get to the worthy theme about one generation's responsibility to the next.
A Difficult Sell At The Box Office
With this cast of actors unfamiliar to American audiences, a playwright who may be an up-and-comer in Britain but has not yet developed a following in the States, and now generally positive but not rave reviews from the major New York publications, it is difficult to imagine the box office increasing much more than its current low levels.
In the last reported week of box office thus far, the week ending December 10, 2017, The Children brought in a weekly gross of $234,714, which represents 36.08% of its gross potential. The previous first partial week of seven performances was slightly worse, with a gross of $193,707, or 34.03% of its gross potential.
Not-For-Profit Endowment Keeping It Aflot
With a top ticket price of $199, the average paid admission thus far has been $52.90, and the audience has been filled up to an average capacity of 83.00%. The show is presently scheduled to run until February 4, 2018. With the endowment of the not-for-profit Manhattan Theatre Club keeping it afloat, the show may very well play out its expected run, but it will certainly not become profitable in this time.