"Sunday in the Park with George" Earns Rave Reviews
Broadway Successfully Hits The Jackpot With The Highly Anticipated Musical Sunday In The Park With George Staring The Charming Actors Jake Gyllenhaal And Annaleigh Ashford
---
Jake Gyllenhaal and Annaleigh Ashford Star in Limited Run on Broadway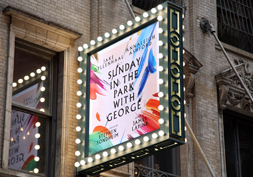 On February 23, 2017, Sunday in the Park with George had its official opening night at the Hudson Theatre, following preview performances that began on February 11, 2017. The show will run for a strictly limited engagement until April 23, 2017. As such, the producers have opted out of Tony Awards consideration, citing their reason being that the musical revival will be running for such a short time that it did not want to take away the chances from longer-running musicals who would be able to benefit financially from awards recognition.
This musical, with a book by James Lapine and music and lyrics by Stephen Sondheim, has been highly acclaimed since it first bowed on Broadway in 1984. In 1994, there was a one-day special performance at the St. James Theatre, and since then it has also been revived in 2008. When the two-day concert performance last year at New York City Center took audiences by storm, the decision was made to bring the show to Broadway to reopen the recently purchased and renovated Hudson Theatre, bringing it back to its original purpose of housing Broadway shows.
Actors Set High Anticipation for the Broadway Musical
With Jake Gyllenhaal making his Broadway musical debut in the role of George (he made his Broadway play debut in Constellations in 2015), and Annaleigh Ashford (Kinky Boots, You Can't Take It With You) in the lead role of Marie and Dot, this show has been highly anticipated prior to opening.
Critics Unanimously Agree that the Revival is Great
Ben Brantley of The New York Times called this a "marvelous revival," relishing in how the production offers a personal, intimacy-driven interpretation of this Sondheim classic. He also was delighted to discover that Jake Gyllenhaal does, in fact, have a lovely singing voice. Matt Windman of AM New York called the revival "superb," enjoyed the simple scenic design and lavish orchestral performance, delighting in Annaleigh Ashford's performance which he deemed sexy, vulnerable, and heartbreaking.
Joe Dziemianowicz was equally thrilled to be relieved by Jake Gyllenhaal's singing chops, as well as to enjoy the dazzlingly renovated Hudson Theatre in all its glory. He also referenced the crisp, colorful costumes and primary-feeling love story. Jesse Green from Vulture generally enjoyed the show, although he was less effusive than his colleagues, calling the production bare-bones but beautiful enough. He did not appreciate that the simple set, a holdover from the concert production as he supposed, revealed Sarna Lapine's direction as muddy, as he deemed it, rather than nimbly holding the audience's attention during key transitions.
Critics Give Mixed Views
He also felt that the show was not topical, and that that was a fault; in today's times, he felt, we need art to serve others, not just the artist. Still, Tim Teeman from the Daily Beast loved the show as well, calling Gyllenhaal "excellent," and Ashford "more than Gyllenhaal's match." He also broached the topic of the purpose of art, as explored in this piece, but in contrast to Vulture's Green, deems this show to be an interesting example of raising the question, rather than a self-indulgent answer.
Show Faring Quite Well at the Broadway Box Office
For such a limited engagement, Sunday in the Park with George does not have a lot of time to gain traction at the box office. Nevertheless, the show is doing quite well. In the last reported week of box office figures, the week ending February 19, 2017, the musical revival brought in a weekly gross of $855,538 over seven performances, which represents 87.79% of its gross potential. With a top ticket price of $399.00, the average paid admission was $127.73, and the audience was filled up to 100.0% of its capacity.
The only other week thus far recorded was the first preview on February 11, 2017, which brought in $136,384 in one performance, which represented 93.51% of the gross potential. In any case, with such positive reviews, and specifically with raves for Jake Gyllenhaal's performance, this show will likely be able to sustain high grosses throughout the remained of the limited engagement, which will conclude on April 23, 2017.