"Sunday in the Park with George" Begins Previews on Broadway
Sunday In The Park With George Began Previews At The Hudson Theatre On Broadway Starring Jake Gyllenhaal And Annaleigh Ashford, The Show Is Directed By Sarna Lapine
---
Jake Gyllenhaal and Annaleigh Ashford Star in Limited Engagement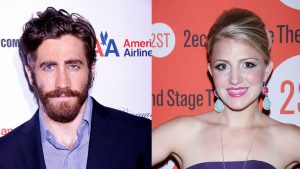 On February 11, 2017, Sunday in the Park with George begins previews at the newly renovated Hudson Theatre, ahead of its official opening night on February 23, 2017. The show will run for a strictly limited engagement to conclude on April 23, 2017. This production is an extension of a successful 3-day concert production at New York City Center from October 24-26, 2016. That concert was sold-out and received such acclaim that the decision was made to transfer the show to Broadway for a longer run.
Originally, Jake Gyllenhaal was slated to star in a different play, Lanford Wilson's Burn This, also at the Hudson Theatre in this time-slot. However, that run would have lasted for longer, and due to a scheduling conflict for Gyllenhaal, that production had to be pushed. Fortunately, Sunday in the Park with George could justify a shorter run that fit into the busy actor's schedule. This musical has a book by James Lapine, and music and lyrics by Stephen Sondheim.
A Closer Look at the Broadway Cast
The show is directed by Sarna Lapine, who happens to be James Lapine's niece. Jake Gyllenhaal stars as the painter George Seurat, while Annaleigh Ashford plays Dot, his mistress, in the first act, and Marie, his grandmother, in the second act. Other roles are played by Brooks Ashmanskas, Ruthie Ann Miles, Robert Sean Leonard, Jordan Gelber, and Erin Davie.
The First Show in the Newly Reopened Hudson Theatre
The Hudson Theatre was built in 1903 by producer Henry B. Harris as a Broadway theatre, where many plays ran such as Cousin Kate, The Marriage of Kitty, and Ranson's Folly. However, when Harris died on the Titanic in 1912, his wife was left to manage the property, and by the 1930s, it was used as a television studio. By 1974, it had become a blue movie theatre, and by 1980, it was running as a rock club called the Savoy. In 1987, the venue earned landmark status, so it could not be torn down.
The adjacent Millennium Hotel therefore incorporated it as a conference venue, until 2017, when the Ambassador Theatre Group purchased it to use as a legitimate Broadway theatre once again. Sunday in the Park with George is the first show to play in this space since its renovation and repurposing back to its original use. With approximately 1,050 seats, the Hudson is on the small side of theatres, but large enough to accommodate a musical such as this Sondheim classic.
The Broadway Show Withdraws from Tony Awards Consideration
To the great astonishment of the industry, the producers of Sunday in the Park with George announced last week that they would not be submitting their show for consideration for the Tony Awards. They released a statement that the 10-week limited engagement nature of this production makes it stand out from any awards season, especially in a season where there are so many great new musicals and revivals, some of which will soon be long-running. As it stands, the lead producer, the Ambassador Theatre Group, does not have any other show in the musical revival category, so it does not appear to be a decision made for personal gain.
As a Tony Award win can have such an impact on a show's longevity, it is very gracious of the producers of Sunday in the Park with George to take themselves out of the running, allowing a show that might stand to benefit in terms of extension to have a chance at taking home the awards. Still, it must be a disappointment for the cast, including Annaleigh Ashford, who won the Tony Award for Best Featured Actress in a Play for You Can't Take it With You in 2015, and was nominated for the Tony Award for Best Featured Actress in a Musical for Kinky Boots in 2013.
Broadway Actors Miss Tony Awards Opportunity
This would have been an opportunity to vie for the Tony Award for Best Lead Actress in a Musical, which she will need to wait for her next lead musical part in order to have a chance at taking home. Furthermore, this is the Broadway debut of Jake Gyllenhaal, who by no means needs another accolade, but this would have surely been a chance for him to be in the running for the Tony Award for Best Lead Actor in a Musical. It could have also been a career boost for the director, Sarna Lapine, who is a relative newcomer.