"Summer: The Donna Summer Musical" Begins
Posted on April 05, 2018
Summer, the Donna Summer Musical, began previews this past week, and although it earned negative reviews in the tryout production, box office was not bad at the start.
---
Donna Summer Musical Sets Sail on Broadway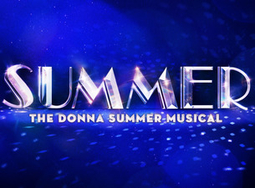 On March 28, 2018,
Summer: The Donna Summer Musical
began previews at the Lunt-Fontanne Theatre, where it is scheduled to have its official opening night on April 23, 2018, ahead of an open-ended run. Incorporating many of the most well-known hits from the late diva star,
Summer
has a book by Colman Domingo, Robert Cary, and Des McAnuff, and it is directed by Des McAnuff, with choreography by Sergio Trujillo. The director Des McAnuff first mounted the show in a developmental production at the La Jolla Playhouse in late 2017. McAnuff managed to evoke box office magic from another jukebox musical,
Jersey Boys
, and in this show, he is reviving his collaboration with choreographer Sergio Trujillo and music supervisor Rob Melose. Nevertheless, the review from the La Jolla production were not altogether promising. In his review of the developmental production in the Los Angeles Times, Charles McNulty called it a "flimsy bio musical," and said that "if the program didn't state otherwise, I'd be sure the writing was outsourced to Wikipedia." Still, that was called a developmental production, which implies that work has been done to improve the show since then. However, with the same main creative team members, and the same lead cast reprising their roles, it is unlikely that a vast overhaul has taken place.
LaChanze, Ariana DeBose, and Storm Lever Star as Summer
The production incorporates a trope that is not necessarily original: the idea of casting three separate actresses to play the legend of Donna Summer at three different times in her life. In the role of so-called "Diva Donna" is LaChanze, who won the Tony Award for Best Performance by a Leading Actress in a Musical in 2006 for her role in The Color Purple. LaChanze's other Broadway credits include
If/Then
,
Ragtime
,
Company
,
Once on this Island
,
Dreamgirls
, and
Uptown…It's Hot!
In the role of so-called "Disco Donna" is Ariana DeBose, whose previous Broadway credits include
A Bronx Tale the Musical
,
Hamilton
,
Pippin
,
Motown the Musical
, and
Bring it On the Musical
. And, in the role of "Duckling Donna" is newcomer Storm Lever, making her Broadway debut. The lead cast is rounded out by Aaron Krohn as Neil Bogart and Gunther, Ken Robinson as Andrew Gaines, and Jared Zirilli as Bruce Sudano, along with a sizeable ensemble. According to the reviews from the tryout production, these three Donnas are interweaved in an effort to tell a well-rounded story about Donna Summer, but the impact may have been more to distill a character into three superficial versions of her. It may have been more effective if the writers had chosen a key character-building moment in Summer's life, and fleshed out the story from there. In any case, the reviews of the Broadway production will make clear whether the show has improved from the development production, or whether the show will fail as another ill-fated attempt at a jukebox musical.
Not a Bad Start at the Box Office
In the show's first partial week of four preview performances,
Summer
brought in a gross of $568,993, which represents 77.4% of its gross potential. With a top ticket price of $197, the average paid admission was $106.20, and the audience was filled up to 91.1% of its capacity on average. This is fair performance for a show entering with bad reviews in a highly competitive season. However, it also benefitted from the generously well performing Easter week, in which the entire Broadway industry experienced a strong growth spurt. Taken in that context, the moderately high box office performance may soon peter out, and the show may not be bringing in that high of numbers for long. Or, given the incredibly recognizable songs of Donna Summer, audiences may continue to buy tickets just for the chance to relive the hits of a beloved diva icon who passed too soon.