"Stories by Heart" Opens to Warm Reviews
Stage And Screen Star John Lithgow Opened His Solo Show, Stories By Heart, To Positive Reviews And A Respectable Box Office Reception.
---
John Lithgow's Solo Show is Open and Running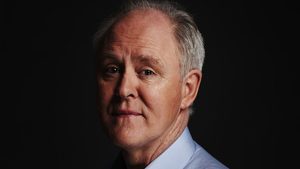 On January 11, 2018, John Lithgow: Stories by Heart officially opened at the American Airlines Theatre, where it had been running in previews since December 21, 2017.
This production is directed by Daniel Sullivan, a Roundabout Theatre Company regular whose credits include The Little Foxes, The Snow Geese, Orphans, The Country House, and Sylvia.
Lithgow's Impressive Career

John Lithgow, the beloved actor of such television shows as 3rd Rock from the Sun, The Crown, and Dexter, and such feature films as Shrek, Terms of Endearment, The World According to Garp, and Daddy's Home 2, has been touring this show around the country for years, including at Lincoln Center in 2008 and again in 2009, culminating with this predestined Broadway presentation.
In this personal reminiscence combined with an ode to storytelling, Lithgow plays all the parts including sound effects of some of his favorite stories from a 1939 anthology called Tellers of Tales, edited by W. Somerset Maugham. He transports the audience to his favorite stories with the childlike glee of when he first heard these stories himself, innocently and imaginatively carrying us away along with his own sense of adventure.
Positive Reviews From Critics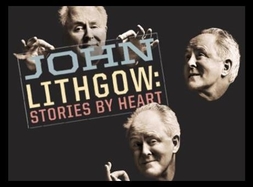 Upon the show's opening, the press was generally laudatory of the one-man show. Jesse Green from The New York Times declared it is Critics' Pick, called the show "delightful," remarking that Lithgow deserved a "sound effects award" for his skillful renditions of all auditory experiences of the stories he tells.
Adam Feldman from Time Out New York praised Lithgow as the only person who could fashion a Broadway show out of bedtime stories without making his audience fall asleep, remarking on the performer's "confidence and warmth."
Late-Career Breakthrough
Other critics were more tepid but still enjoyed the show. Jeremy Gerard from Deadline spent a long time citing Lithgow's many recognizable performances, and then after giving a nod to this show's "theatrical tradition" of a solo show in between roles, and then ultimately admitting he was taken away by Lithgow's storytelling.
Joe Dziemianowicz from the New York Daily News calls it a "slight but solo" show, complimenting Lithgow's "easygoing charm," admitting it is "personal" and "has heart," but then he states that the show nonetheless has a weak pulse. David Canfield from Entertainment Weekly calls it a "late career breakthrough," enjoying the thrilling, imagined world that Lithgow's childhood evokes in Lithgow's adult remembrance.
Middling Box Office In The Middle Of Winter
In opting to book Lithgow's solo show from just before Christmas through to the top of March, the producers of Stories by Heart did not expect a box office sell-out. With such a low running costs as this low-design solo show must require, enormous sales are not necessary to sustain this limited engagement.
The warm reviews only serve to spread awareness of the show, not change anyone's opinion, for Lithgow is widely regarded with such positive approval as the reviews substantiated. Over the 3.5 weeks of yet recorded box office figures, Stories by Heart brought in an average of 47.86% of its gross potential.
Lithgow Can Fill A Theatre
Last week, the weekly gross was $307,280, which is an increase of $47,732 from the week before. With a top ticket price of $147.00, the average paid admission was $54.73, and the audience was filled up to 94.8%. Therefore, even if Lithgow isn't a sell-out at top prices, he can certainly fill up a theatre with only a respectable amount of discounting required.
The cold months to come may be difficult to sustain, but Lithgow's warmth will nonetheless radiate from the American Airlines Theatre.