"SpongeBob SquarePants" Musical Begins Previews
Spongebob Squarepants Is Now A Broadway Musical, Created By Tina Landau With A Book By Kyle Jarrow And A Score By A Large Group Of Well Known Artists.
---
Tina Landau's Stage Adaptation Stars Ethan Slater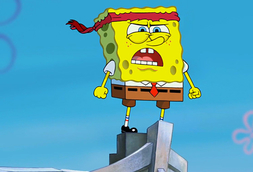 On November 6, 2017, SpongeBob SquarePants: The Broadway Musical began previews at the Palace Theatre, ahead of its scheduled opening night of December 4, 2017.
Based off the hugely successful Nickelodeon animated television series SpongeBob SquarePants, this new musical is conceived and directed by Tina Landau (Superior Donuts, Bells Are Ringing), with a book by Kyle Jarrow (A Very Merry Unauthorized Children's Scientology Pageant), and a score by a multitude of artists including Yolanda Adams, Steven Tyler, Joe Perry, Sara Bareilles, Jonathan Coulton, Alex Ebert, The Flaming Lips, Lady Antebellum, Cyndi Lauper, John Legend, Panic! at the Disco, Plain White T's, They Might Be Giants, T.I., David Bowie, Tom Kenny, and Andy Paley.
A Star-Studded Collaborative Effort
Each of these songwriters wrote an original piece for the show, with a briefing from bookwriter Kyle Jarrow about where their song fits into the story. The music is supervised, arranged, orchestrated, and supplemented by Tom Kitt (If/Then, Orphans, Bring It On the Musical), and the choreographer is Christopher Gattelli (War Paint, Amazing Grace, The King and I, Newsies the Musical).
In the lead role of SpongeBob is Ethan Slater, making his Broadway debut, and other main parts are played by Lilli Cooper (Spring Awakening) as Sandy Cheeks, Gavin Lee (Les Misérables) as Squidward Q. Tentacles, Brian Ray Norris (Broadway debut) as Krusty Krab owner Eugene Krabs, Danny Skinner (Broadway debut) as Patrick Star, and Wesley Taylor (The Addams Family, Rock of Ages) as Sheldon Plankton.
Broadway Engagement Follows Positive Reception In Chicago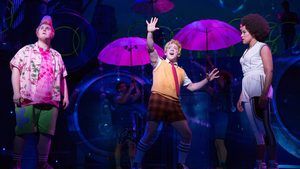 On June 19, 2016, this show made its world premiere at the Oriental Theatre in Chicago, Illinois, where it played under its original title The SpongeBob Musical. The show was received with positive reviews, and the run was extended slightly to close on July 10, 2016.
The development of the show dates as far back as 2014, when the lead singer of The Flaming Lips, Wayne Coyne, leaked on twitter that he was in the middle of writing some lyrics for the show. In February 2015, the show was officially announced on Nickelodeon's upfront presentation, which included a performance of the opening number of the musical, "Bikini Bottom Day," written by Jonathan Coulton of They Might Be Giants.
Visually Stunning Underwater Ensemble
Upon the show's opening in Chicago, a reporter from Variety called it "inventive, daring, and decidedly promising," while Chris Jones from the Chicago Tribune calls the world Landau creates "beautifully visualized" and "inarguably unique."
The Daily Herald called it a "merry romp" with visuals that are "delightfully loopy," and The Chicago Sun Times says it "has its charms" and that it "remains essentially true to the spirit" of the animated series.
An Energetic Undersea Sponge and a Dimwitted Starfish
In developing the show, the creator Tina Landau made it very clear that she was not interested in making a theme park musical, with loose storylines centered around people wearing giant mascot head costumes of the animated characters. Rather, she sought to craft a true theatrical experience based on the DNA of the animated program.
A Sea Of Potential
The result is a multi-layered show meant for both children and adults, with an exciting score from a bevy of well-known artists. The creative visuals in the set design include a tunnel made of hula hoops, a mountain made of cardboard boxes, and a whole world created out of scrap metal and a chum bucket.
With the brand power of SpongeBob SquarePants, this musical has a promising shot of being a long-running addition to the Broadway marketplace.