Skylight Opens on Broadway at the John Golden Theatre
Skylight, starring Carey Mulligan and Bill Nighy opened at the John Golden Theatre on April 2, 2015. It received rave reviews and seven Tony nominations.
---
A Lauded Revival Of David Hare's 1995 Play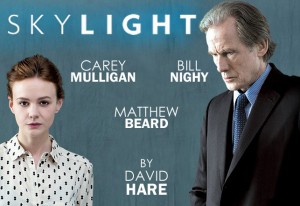 On April 2, 2015, Skylight opened on Broadway at the John Golden Theatre. It had been running in previews since March 13, 2015. This revival of David Hare's play is directed by Stephen Daldry, who is also helming the vastly successful play The Audience presently running this season.
Daldry's previous Broadway credits include Billy Elliot: The Musical, Via Dolorosa, and An Inspector Calls. This is in addition to his enormous list of British credits, including the previous incarnation of this production of Skylight, which prior to its Broadway run played in the West End's Wyndham's Theatre, with the same cast.
Talented Three-Character Cast Of "Skylight"
This three-character play stars Carey Mulligan as Kyra Hollis, Bill Nighy as Tom Sergeant, and Matthew Beard as Edward Sergeant. Bill Nighy previously played this same role in the 1997 production of Skylight, which was directed by Richard Eyre at London's Vaudeville Theatre.
Carey Mulligan is a Hollywood star whose recent film credits include The Great Gatsby, Inside Llewyn Davis, Drive, Shame, and Far from the Madding Crowd. This is her second Broadway credit, following The Seagull in 2008, for which she was nominated for a Drama Desk Award for Outstanding Featured Actress in a Play. She was also seen Off-Broadway in 2011 in the New York Theatre Workshop production of Through a Glass Darkly.
Rave Reviews From Major Publications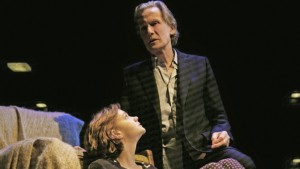 The show received all around rave reviews from the major publications. Ben Brantley in the New York Times found the dynamic between Mulligan and Nighy to be magnetic, with their performances making their relationship seem meant to be despite the enormous gulf that exists between them in the circumstances of their lives.
He also calls the play possibly David Hare's best work, and definitely his tightest. David Cote in Time Out New York dubbed the play a Critics' Pick, calling the actors deep-diving and fearless. David Rooney in The Hollywood Reporter deemed Nighy as being in his top form, calling the first act terrific and the entire play riveting.
Seven Tony Award Nominations
Marilyn Stasio in Variety loved the fierce pas de deux, as she called it, relishing in the dreary portrait of human life at the very bottom of the social ladder. Robert Kahn in NBC New York also loved the play, calling it artfully performed. In addition to critical praise, the play was widely recognized by the Tony nominating committee. It received a remarkable seven Tony Award nominations, beat out by only one straight play in terms of number of nominations (Wolf Hall Parts One and Two received eight).
The production was nominated for Best Revival of a Play, Bill Nighy was nominated for Best Actor in a Leading Role in a Play, Carey Mulligan was nominated for Best Actress in a Leading Role in a Play, Matthew Beard was nominated for Best Actor in a Featured Role in a Play, Stephen Daldry was nominated for his direction (and interestingly for his play but not for The Audience), Bob Crowley was nominated for his scenic design, and Natasha Katz was nominated for her lighting design.
Ever Increasing At The Box Office
For a straight play, Skylight is not doing badly at the box office. Since the Tony nominations were announced, the figures have been increasing. In the last week of reported box office figures, the week ending May 3, 2015, it brought in $776,373, which represents 90.48% of its gross potential.
With a top ticket price of $297.00, the average paid admission was $121.29, and the average audience capacity was 99.8%. That weekly gross is the highest yet, and it may even get higher as word of mouth continues to spread for this gloriously reviewed production.