"Skylight" Completes Run on a High Note
Skylight Wrapped Up Its Tony Award-Winning Revival Run On June 21, 2015. It Received Seven Nominations And Recouped In Final Weeks.
---
Tony Award-Winning Best Revival Concludes Broadway Run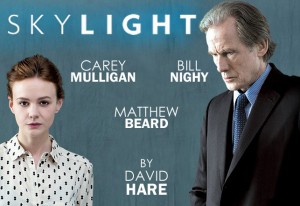 On June 21, 2015, Skylight played its final performance of its Tony Award winning run. It had been running since it began previews on March 13, 2015, and opening night took place on April 2, 2015.
Skylight is a play by David Hare (The Year of Magical Thinking, The Vertical Hour) the premiered in the West End in 1995, followed by a Broadway premiere in 1996. The 2015 revival at the John Golden Theatre is likewise a transfer from the West End, where Stephen Daldry's production ran in 2014.
"Skylight" Nominated For Seven Tony Awards
Stephen Daldry is the extremely prolific theatre director whose credits this season alone also include the highly acclaimed Broadway production of The Audience, as well as earlier productions on Broadway of Billy Elliot: The Musical, An Inspector Calls, and Via Dolorosa, the last of which was also written by David Hare. This revival of Skylight was nominated for seven Tony Awards, taking home only one but a prestigious one: the award for Best Revival of a Play.
Of the three actors in the play – Carey Mulligan, Bill Nighy, and Matthew Beard – all received nominations for their performances, which were, respectively, Best Performance by an Actress in a Leading Role in a Play, Best Performance by an Actor in a Leading Role in a Play, and Best Performance by an Actor in a Featured Role in a Play. Stephen Daldry received a nomination for his direction, and the scenic designer and lighting designer were also honored with nominations.
Recoupment And Escalating Box Office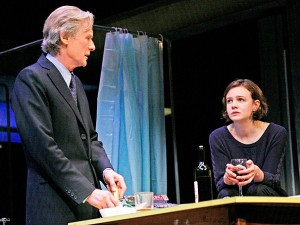 On May 31, 2015, Skylight announced that it had recouped its initial capitalization, which is suspected to be in the realm of $3 million. Its highest weekly gross was achieved in the final week of performances, when the show brought in $927,539, representing 108.09% of its gross potential.
The penultimate week was also an excellent one for Skylight's box office, bringing in $865,346, which represents 100.85% of its gross potential. Though it took the final two weeks to reach the heights of 100% or higher of gross potential, the box office throughout the run was really not bad.
"Skylight" Increased Each Week
With only two minor exceptions, every single week showed an increase in box office from the week before. In the first full week of eight performances, the week ending March 29, 2015, the weekly gross was $618,692, representing 76.54% of its gross potential.
The only two occasions where the box office took a dip from the week before were the week ending May 10, 2015, and the week ending May 31, 2015, which were the insignificant decreases of $12,606 and $16,475, respectively. Therefore, ticket buyers became more interested in Skylight as the run went on, due likely to positive word of mouth, reviews, and then the announcement of Tony nominations and wins.
Another Coup For Scott Rudin
The lead producers of Skylight were Robert Fox and Scott Rudin. Rudin is known for his excellent productions of both new plays and revivals, generally starring a major Hollywood name. This season alone, Rudin was also responsible for the already recouped Fish in the Dark, the highly acclaimed A Delicate Balance, and the excellent revival of This Is Our Youth.
He also had a hand in The Audience, The River, The Curious Incident of the Dog in the Night-time. In previous seasons, he has mounted such hits as The Book of Mormon, Death of a Salesman starring Philip Seymour Hoffman, Motherf**ker with the Hat, and countless others. Therefore, an investment with Rudin is generally a good bet, as is buying a ticket to a show that he has produced.