"Significant Other" - Strong Reviews, Poor Ticket Sales
Significant Other Hasn't Been Striking It Big In The Broadway Box Office Despite Its Raving Reviews, But Could This Be Due To The Current Season With Hamilton
---
Joshua Harmon's Broadway Debut is a Tough Sell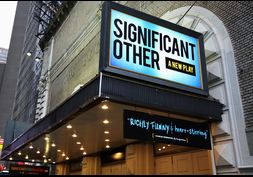 On March 2, 2017, Significant Other opened at the Booth Theatre, where it had been running in previews since February 14, 2017. This straight play about a gay college student premiered Off-Broadway at Roundabout Theatre Company's Laura Pels Theatre from May to August 2015, receiving positive reviews. The cast for that Off-Broadway outing was largely identical to the cast presently appearing on Broadway, with the only replacement being the role of Vanessa, who is played by Rebecca Naomi Jones on Broadway.
Joshua Harmon became a wunderkid playwright with the success of his first professional production, Bad Jews, which also originated at Roundabout, and then became the third most produced play of the 2014 to 2015 season. Roundabout is known for taking chances on young writers, serving as an incubator through the various levels of its production capabilities, but rarely do such new talents make it all the way to Broadway.
The Slowest Selling Show on Broadway
With the recent success of Stephen Karam's The Humans, which originated at Roundabout and then won the Tony Award for Best Play, the company decided to take a chance with Joshua Harmon's Significant Other. However, despite a slew of generally positive reviews, the show continues to be the slowest selling on Broadway.
A Round of Acclaim, with The New York Times on the Fence
Upon the play's opening night, the critical response was generally positive. The only exception among the prestigious publications was the "paper of record," The New York Times, for which lead theatre critic Ben Brantley critiqued the play of entailing "very long and increasingly self-pitying accounts" of his dating travails. While his three best friends are finding love and getting married, Jordan Berman (played by Gideon Glick) is having trouble, and this is the main issue of the play.
Other reviewers were more impressed. Joe Dziemianowicz from the New York Daily News called Gideon Glick's performance "stellar," and dubbed the wedding-filled play on Broadway the "Great White Wedding Way." Matt Windman from AM New York was also full of praise, calling Significant Other "a sweet and sour comedic drama."
The Broadway Show Charms Some Critics

David Rooney from The Hollywood Reporter was equally charmed, calling it "a lovely, bittersweet comedy," and he particularly remarked on the "gorgeous visits" between Jordan and his grandmother, played by the 85 year-old Broadway veteran Barbara Barrie (Fiddler on the Roof, Company, Torch Song Trilogy). Finally, Linda Winer of Newsday called it a "lovely, finely tuned party play," as well as a "slick, well-made, funny-sad" comedy.
Box Office Facing Major Uphill Battle
Despite these generally positive reviews, the show is having serious difficulty finding its audience. In the last reported week of box office figures, the week ending February 26, 2017, Significant Other brought in a weekly gross of $228,247 over 8 performances, representing just 30.24% of its gross potential. While the reviews may help give this box office a boost, it is facing an extremely competitive season full of glitzy musicals and plays with movie stars on the marquee (such as Glenn Close, Sally Field, Danny DeVito, and the list goes on).
Since it began performances, Significant Other has brought in the lowest percentage of gross potential of any show. This past week, while it brought in 30.2% of its gross potential, the second lowest in terms of gross potential was In Transit, which has been struggling in its own right, but which managed to bring in 38.6% of its gross potential. The previous week, in which Significant Other began previews and played seven performances, it brought in a weekly gross of $226,779, which represented 33.4% of its gross potential, also the lowest that week (also behind In Transit, which brought in 39.4% of its gross potential).
The Broadway Show Currently Has No Closing Date
In a season with the likes of Hamilton, which brought in $3,133,415 this past week, crossing the $3 million mark for the fifth time, it is extremely hard for a little play like Significant Other to gain any traction. While the play has not yet announced its closing date, it will be an achievement if it manages to run even until the Tony Awards on June 11, 2017, where it will likely be nominated for some awards.