Roundabout's The Winslow Boy Closes on Broadway
The Winslow Boy, Based On A Real-Life Case, Closes Its Limited Engagement Run On Broadway Which Was Well Received
---
"The Winslow Boy" Concludes Its Limited Engagement Run on Broadway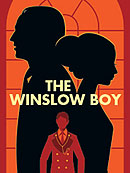 The Roundabout Theatre Company's well-received revival of The Winslow Boy concludes its limited engagement at the American Airlines Theatre today.
The Terence Rattigan play began performances on September 20 and had its official Broadway opening on October 17.
Based On A Real-Life Case
The production starred Roger Rees and Mary Elizabeth Mastrantonio as the loyal parents of a schoolboy who is -- they believe -- wrongly accused of a minor theft at his school and hire a celebrated attorney (played by Alessandro Nivola) to defend him.
The play was inspired by a similar real-life case. According to the Internet Broadway Database, The Winslow Boy only appeared on Broadway once before, at the Empire Theatre (demolished in the '50s) in 1947.