Rocky Opens at Broadway's Winter Garden Theatre
After Long-Running Success In Germany, Rocky Opens On Broadway To Mixed Reviews And Wide Press Coverage With A Collaboration By Sylvester Stallone.
---
Sylvester Stallone Collaborates On New Musical Opening on Broadway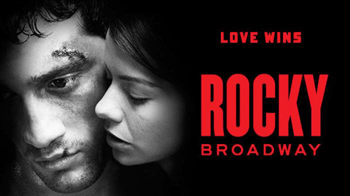 Rocky, a new musical based on the 1976 film of the same name, had its official opening last night on Broadway.
With an original score by Stephen Flaherty and Lynn Ahrens (Ragtime, Once on This Island, Anastasia), and a libretto by Thomas Meehan (The Producers, Hairspray, Annie) in collaboration with Sylvester Stallone, Rocky is directed by Alex Timbers (Here Lies Love, Bloody Bloody Andrew Jackson, Peter and the Starcatcher).
Long-Running Success In Germany
Produced by the international theatre powerhouse Stage Entertainment, Rocky premiered in Hamburg, Germany in 2012 in a German language production, where it is still running today. In its newly translated English version, the Broadway production now occupies the Winter Garden Theatre, where Mamma Mia! played from 2001 to 2013 (Mamma Mia! is now continuing its run at the Broadhurst Theatre).
When the film came out in 1976, Sylvester Stallone was relatively unknown. After writing the script and starring as the fictional boxing hero Rocky Balboa, Stallone launched to fame, and went on to write, star, and also direct four subsequent sequels. (The first film as well as Rocky V were directed by John G. Avildsen.)
Original "Rocky" Became Highest Grossing Film Of 1976
The original Rocky, which was made on the shoestring budget of under $1 million, became the highest grossing film of 1976, and the franchise has since earned over $1.1 billion worldwide. Sylvester Stallone is also the second billed producer after Stage Entertainment of Rocky the Musical, which has a production budget of approximately $15 million.
Because of its successful run in Hamburg, whose budget of $20 million included development expenses, Rocky the Musical was able to avoid an American pre-Broadway tryout and economize for a lean Broadway budget. Starring Andy Karl as Rocky, Margo Seibert as Adrian, Terence Archie as Apollo Creed, Dakin Matthews as Mickey, and Danny Mastrogiorgio as Paulie, this musical is not relying on A-list Hollywood stars to sell its tickets, a luxury generally reserved for musicals rather than plays.
Alex Timbers' Whirlwind Career
The director Alex Timbers, who is only 35 years old, is often referred to as the "boy genius" of theatre, as his whirlwind career thus far includes two Tony Award nominations and four Broadway directing credits, including Bloody Bloody Andrew Jackson for which he also wrote the book.
As for his writing, Timbers is known for a quirky and often irreverent style, but for Rocky which he only directs, his skills are most visible in terms of the magic of technical design employed onstage, especially in the adrenaline-charged closing number bolstered by the choreography of Steven Hoggett and Kelly Devine.
Mixed Reviews From Broadway Critics
In fact, Ben Brantley of The New York Times praised this closing number and little else, going as far as to claim the show doesn't even begin until over 2 hours after its curtain time. Reviewers were generally mixed – Entertainment Weekly and The New York Post gave it raves, but the Hollywood Reporter called its score "unmemorable" and AM New York made fun of how its musicality undermined the serious story at its core.
Still, the success of the show's last 15 minutes was basically unanimous, and critics also largely agreed that Alex Timbers' direction was innovative, the technical elements were unique, and the emotional impact of the classic underdog story was indestructible. In terms of box office sales, the show has not been knocking it out of the park.
"Rocky" Generating Broadway Buzz
In the last week of previews, the average discount ticket price was a low $66.29, though premium seats were sold for as high as $248.00, reaching only 43.65 percent of its gross potential. Still, national awareness has just been augmented by wide press coverage, and the brand power of this movie franchise will most likely overshadow any ambivalence in critical praise.
In any case, it is undoubtedly one of the more buzz-generating Broadway shows opening this season, and we may expect to see these numbers increase in the coming weeks.
Discount Broadway Tickets
---
---