"Rocktopia" Opens to Negative Reviews
Rocktopia, A Rock Classical Fusion Concert Event, Opened To Negative Reviews On Broadway, Box Office Mediocre As Well
---
Rob Evan and Randall Craig Fleischer Blend Classic Rock and Classical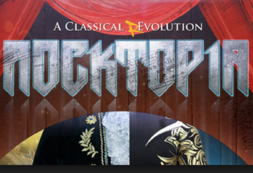 On March 27, 2018,
Rocktopia
had its official opening night at the Broadway Theatre, where it had been running in previews since March 20. The concert event blending classic rock and classical music is scheduled to run until April 29. This is the brainchild of Broadway performer and recording artist Rob Evan, in collaboration with conductor Randall Craig Fleischer. The musical artists behind the score include a wide range: Beethoven, Queen, Mozart, Journey, Tchaikovsky, U2, Handel, The Who, Pink Floyd, Aerosmith, Puccini, Led Zeppelin, Copland, Heart, and more. With a massive group of performers, including an orchestra of 20, a choir of 40, and a five-piece rock band,
Rocktopia
is no small feat.
The lead performers include Train frontman Pat Monahan, Trans-Siberian Orchestra singer Chloe Lowery, Broadway singer Tony Vincent (
American Idiot
,
Jesus Christ Superstar
,
Rent
), internationally renowned singer and
The Voice
finalist Kimberly Nichole (who has performed with Janelle Monae, Living Colour, Bilal), soprano Alyson Cambridge (
Carmen
,
L'elisir d'amore
,
Parsifal
), and Cheap Trick frontman Robin Zander as guest performer, joining for the tail end of the run from April 23 to 29, 2018.
Negative Reviews from the Major Critics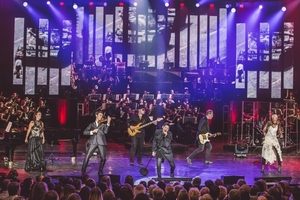 Most major critics were not won over by this ambitious attempt at rock-classical fusion. The New York Times called the show "benign" and "dull," remarking that its "six-week pit stop on Broadway" will "go down as featuring one of the most misguided PowerPoint presentations ever to grace a Broadway stage." The Hollywood Reporter said "not since K-tel's best-selling Hooked on Classics series in the '80s has there been such a misguided attempt to combine two musical forms" and the show feels "woefully out of place" in such a grand and historic Broadway theatre, and that it likely has been causing Ethel Merman to roll over in her grave (she performed
Gypsy
there).
The New York Daily News was also not a fan, saying that it caused his eyes to roll. He said, "If the notion of Mozart's exuberant "Eine Kleine Nachtmusik" married to Styx's guitar-grinding "Come Sail Away" or a lush Handel aria bleeding into Elton John's plaintive "Don't Let the Sun Go Down On Me" sounds like music to your ears, this may be the mash-up for you. Otherwise, not so much."
Middling Box Office to Match
In the two weeks of box office figures reported, Rocktopia does not appear to be in great financial shape, but it also isn't the worst that Broadway has seen of late either. In the last week of box office, the week ending April 1, 2018, the show brought in $761,838 over eight performances, which represents 50.78% of its gross potential. With a top ticket price of $247.00, the average paid admission was $66.26, and the audience was filled up to 81.9% of its capacity on average.





This is comparable to the box office performance its first week, the week ending March 25, 2018, when the show brought in $813,589 over eight performances, representing 54.23% of its gross potential. With a top ticket price of $247.00, the average paid admission that week was $66.02, and the audience was filled up to an average capacity of 87.8%. Therefore, there are a significant number of people willing to pay discounted prices at least to see an unspectacular rock fusion spectacular.