"Rocktopia" Classical Rock Fusion Begins Previews
Rocktopia Began Previews This Week Led By Team Of Elite Vocalists, A Rock Band, A Choir, And An Orchestra, Blending Classic Rock And Classical Music.
---
The Brainchild of Rob Evan and Randall Craig Fleischer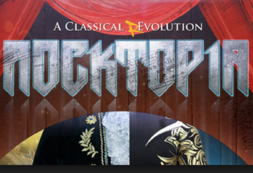 On March 20, 2018,
Rocktopia
began previews at the Broadway Theatre, ahead of its opening night on March 27, 2018. This new concert show brings to Broadway a fusion of classical music and classic rock, with the range of artists including Beethoven, Queen, Mozart, Journey, Tchaikovsky, U2, Handel, The Who, Pink Floyd, Aerosmith, Puccini, Led Zeppelin, Copland, Heart, and more. The show features a choir of 40 and an orchestra of 20, performing in a limited engagement that is scheduled to last until April 29, 2018.
This event is co-created by Rob Evan, the vocalist and recording artist whose previous Broadway credits include Les Misérables, Jekyll & Hyde, Little Shop of Horrors, and Tarzan, in collaboration with the renowned conductor Randall Craig Fleischer. As such, the two creators are blending their unique backgrounds, with Evan's expertise in vocal and Broadway performance, and Fleischer's mastery of orchestral and choral conducting.

Fleischer's Musical Pedigree
Specifically, Fleischer currently serves as the music director of the Anchorage Symphony, the Hudson Valley Philharmonic, and Youngstown Symphony orchestras. In addition, as a composer, Fleischer is a renowned leader in the area of symphonic rock and world music fusion. With their joint love of both classical music and symphonic rock, the two musicians put their heads together and came up with Rocktopia.

The show originated with the rendition
Rocktopia: Live From Budapest
in June 2016 at the 19th century Hungarian State Opera House, recorded in front of a live studio audience for PBS. It has since toured over 20 cities in the U.S., before making its way to Broadway.
Performers from Trans-Siberian Orchestra, Train, and More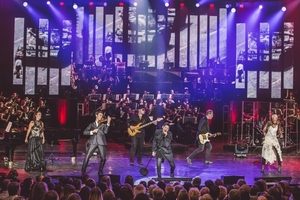 In addition to Evan, one of the lead vocalists the show brings together a powerhouse group of singers and musicians. Among these are Train frontman Pat Monahan, a special guest vocalist until April 8th. Active since the late 1980s, Monahan has built up an extensive musical career, encompassing four studio albums from 1994 to 2006 with the band Train. With Train, he earned two Grammys, including one for the song "Drops of Jupiter (Tell Me)," which Monahan wrote inspired by his mother's battle with cancer. He also released a solo studio album, Last of Seven, in 2007, which includes the single "Her Eyes."
The Rocktopia cast also includes Chloe Lowery, best known as a featured vocalist with the recording and touring powerhouse Trans-Siberian Orchestra, and her commandingly powerful voice makes her equally at home with classical music and classic rock. Also featured: Tony Vincent, previously on Broadway in American Idiot, Jesus Christ Superstar, and Rent; Kimberly Nichole, a finalist in the eighth season of The Voice. Soprano Alyson Cambridge joins the show following her vast experience with opera companies around the nation. The rock band comprises Alex Alexander on drums, Henry Aronson on piano, Tony Bruno on guitar, Mat Fieldes on bass, and Máiréad Nesbitt on violin, accompanied by the New York Contemporary Choir and a full orchestra.
Cheap Trick Frontman Robin Zander to Close Out Run as Guest Performer
When Pat Monahan wraps up his special vocalist engagement on April 8, 2018, fans will have just a few weeks to wait before another special guest vocalist joins the cast to close out the run. From April 23 to 29, 2018, Cheap Trick frontman Robin Zander will take part in Rocktopia. Zander is a multi-platinum Rock and Rall Hall of Famer, Zander has been active since 1974, leading Cheap Trick's unique blend of punk, pop and metal, with such hits as I Want You To Want Me, Dream Police, and Surrender. Forty years and 25 albums later, Zander is still widely considered one of the greatest rock voices of all time.