"Rent" to Return for 20th Anniversary Tour
Rent will launch a national tour starting September 12, 2016 in Bloomington, Indiana followed by many cities all over the country.
---
Jonathan Larson's Rock Opera Still Resonates Today
Based off the opera
La Bohème
by Giacomo Puccini,
Rent
took audiences by storm from its first Off-Broadway performance in January 1996. Premiering exactly 100 years after the Puccini opera,
Rent
was struck with a much more tragic coincidence: the night after the final dress rehearsal at New York Theatre Workshop, the creator, Jonathan Larson, passed away suddenly from an undiagnosed aortic aneurysm. Overwhelming popularity for the show, which situates the tragedy of love and poverty amidst 1990s lower Manhattan punk, gay, and homeless life, led it to transfer shortly to Broadway. On April 16, 1996,
Rent
had its first Broadway preview at the newly remodeled Nederlander Theatre, with its official opening on April 29, 2016. It ran for a magnificent 5,139 performances, finally closing on September 7, 2008. In the meantime, it also embarked on several national tours and international productions, delighting and inspiring audiences all over the world. In 2011, New York audiences could not handle being without
Rent
for so long, and so another Off-Broadway production ran at New World Stages. In the past two decades, productions have run in Barcelona, Los Angeles, Buenos Aires, London, São Paolo, Sydney, Mexico City, Tokyo, and many other cities. Now, once again, a U.S. national tour is set to begin in honor of the musical's 20
th
anniversary.
Tour to Launch September 12th in Bloomington, Indiana
Twenty years after
Rent
first appeared on the New York stage and Jonathan Larson's untimely passing, the show is back in action. A non-equity tour will begin on September 12, 2016 with its first stop in Bloomington, Indiana. The director is Evan Ensign, who will stage the musical based off of Michael Greif's original direction and Marlies Yearby's original choreography. After three days in Indiana, the tour will progress to Lexington, Kentucky; Dallas, Texas; Gainsville, Florida; Daytona Beach, Florida; Fort Lauderdale, Florida; Durham, North Carolina; Nashville, Tennessee; North Charleston, South Carolina; Wilmington, Delaware; Easton, Pennsylvania; Burlington, Vermont; Concord, New Hampshire; Orono, Maine; Portland, Maine; Brookville, New York; Springfield, Ohio; Erie, Pennsylvania; Huntington, West Virginia; and many more – and that only gets them to mid-November. They will make their way across the entire country, from Michigan to Colorado to California to Washington before heading back east, to Texas and Mississippi and Massachusetts and countless more stops. The final stop presently announced is Washington, D.C. from June 20-25, 2017. Every regional theatre is eager for the opportunity to house
Rent
in their venue, as the show clearly has a built-in audience. As millennials grew up on the material, present teenagers wait eagerly to be inspired and shown things about the world they have never seen, for better or for worse, and adults enjoy the beautiful melodies and timeless emotions portrayed through the brutality of a modern age that is at once nostalgic and ever-present.
A New Generation of "Rent" Cast Members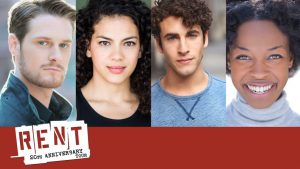 When
Rent
first began in the 90s, it launched the careers of many performers. For example, Idina Menzel, who played the original Maureen, would go on to star as the original Elphaba in
Wicked
, as well as to sing the eternally catchy song "Let It Go" in the Disney film
Frozen
. Also, Taye Diggs, the original Benny, went on to star in the film
How Stella Got Her Groove Back
among other projects. As for the 20
th
anniversary tour, the cast includes many relative unknowns. The role of Mark Cohen will be played by Danny Kornfeld, the role of Roger Davis will be played by Kaleb Wells, the role of Mimi Marquez will be played by Skyler Volpe, the role of Maureen Johnson will be played by Katie LaMark, the role of Tom Collins will be played by Aaron Harrington, the role of Angel Dumott Schunard will be played by David Merino, the role of Joanne Jefferson will be played by Jasmine Easler, and the role of Benny Coffin III will be played by Christian Thompson. The cast is rounded out by a lucky ensemble, all of which will take the nation by storm with the timeless show.