TV's Real Housewives Set Star In NEWSical The Musical
The Real Housewives Of Atlanta Star Kandi Burruss Performs In New Off-Broadway Show Newsical The Musical For Two Week Engagement
---
Kandi Burress Stars In "NEWSical The Musical"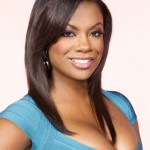 Kandi Burruss, one of the stars of Bravo's The Real Housewives of Atlanta, will soon join the cast of the Off-Broadway show NEWSical The Musical. Her two-week stint in NEWSical will be from January 13-26, 2014.
"I am thrilled to join the cast of NEWSical The Musical," said Kandi Burruss in a statement. "Having just come off of my own musical production, NEWSical The Musical furthers my journey in entertainment to, simultaneously, do more of what I love: act and sing."
Ticket Information
As well as her role on the Atlanta edition of the popular Real Housewives franchise, Burruss is known as a songwriter and record producer. NEWSical the Musical, which currently features Christine Pedi and Michael West, among others, is playing on Theatre Row at 410 W. 42nd Street. Tickets are $90 to $110. Go to www.NEWSicalthemusical.com for tickets and information.