Public Is Invited to Gore Vidal Memorial on Broadway
---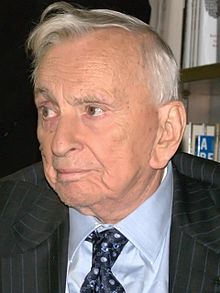 Writer Gore Vidal's life and work will be celebrated on Thursday, August 23rd at a memorial being held, appropriately, at the Gerald Schoenfeld Theatre, where the current revival of his play The Best Man is now playing. The memorial, which will take place from noon to 1pm, will feature loved ones sharing anecdotes and fond remembrances of Vidal. There will also be readings from some of the author's best-known works, courtesy of both fans and friends from the worlds of TV, film, and theater.
Gore Vidal, the famed author, public figure, and occasional performer, passed away on July 31. He was 86 years old. Vidal's death has a particular resonance for the Broadway community given the success of The Best Man revival, which opened with a starry cast including James Earl Jones and Angela Lansbury. This is the third Broadway production of Vidal's political comedy about warring presidential candidates, which debuted in 1960 and had a previous revival in 2000.
Though perhaps best known for his novels (Burr, Lincoln, Myra Breckinridge) and screenplays (Ben Hur, Suddenly, Last Summer), Gore Vidal was no stranger to Broadway, having written the Broadway-produced plays Weekend, A Visit to a Small Planet, and An Evening with Richard Nixon and ..., all comedies. The general public is invited to attend the special memorial gathering for Gore Vidal. Seating at the theater, which has a capacity of over 1,000, will be first come first served, so early arrival is recommended.