Peter Pan Musical To Be Aired Live on TV
Broadway Hit Peter Pan Is Scheduled To Have A Live Broadcast Production On NBC To Air On December 4th, 2014 Featuring Fan-Favorite Songs.
---
Broadway Hit "Peter Pan" Scheduled For Live Broadcast Production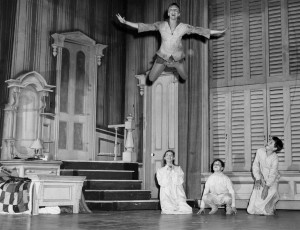 In the wake of the massive ratings success of NBC's live production of The Sound of Music starring Carrie Underwood, the network has tapped producers Neil Meron and Craig Zadan to replicate their success with another live musical event later this year.
The next event will be the live broadcast of a production of the musical adaptation of J.M. Barrie's play Peter Pan, which has lyrics by Carolyn Leigh, Betty Comden and Adolph Green, and music by Jule Styne and Moose Charlap.
Fan-Favorite Songs Will Be Featured
Originally produced on Broadway in 1954 with Mary Martin playing Peter Pan, this version features well-known songs like "I Won't Grow Up" and "I'm Flying".
"We hope to create the joy that has made this musical so beloved," stated Meron and Zadon. "We would like a whole new generation to experience Peter Pan and for families across the country to share the magic." Casting has not yet been announced for NBC's live airing of Peter Pan, but the broadcast is scheduled to air on December 4, 2014.