"On Your Feet!" Musical Begins Previews on Broadway
On Your Feet Enthusiastically Began Previews On October 5, 2015 At The Marquis Theatre On Broadway, The Musical Tells The Life Story Of Gloria And Emilio Estefan, Using Her Music As The Score
---
The Story of Gloria Estefan and Emilio Estefan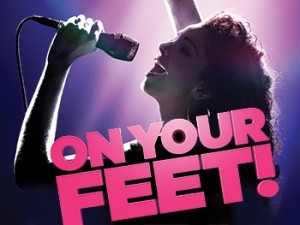 This past week, On Your Feet! began previews at the Marquis Theatre. It will officially open on November 5, 2015. The entire title of this musical is actually On Your Feet! - The Story of Emilio & Gloria Estefan. The musical first premiered at the Oriental Theatre in Chicago this past summer, from June to July 2015. The pre-Broadway tryout was a success, and the musical transferred to Broadway just a few months later. The book is written by Alexander Dinelaris, who is making his Broadway debut with this piece, but whose other credits include the screenplay for the film Birdman: Or (The Unexpected Virtue of Ignorance), which won the Academy Award this past year for Best Screenplay.
His theatre credits include the plays Zanna, Don't!, Red Dog Howls, Still Life, and The Chaos Theories. If the book writer is a newbie, the musical's director is the exact opposite. On Your Feet! is directed by Jerry Mitchell, who directed and choreographed the musicals Kinky Boots and Legally Blonde the Musical, and who also served as choreographer on Dirty Rotten Scoundrels, La Cage aux Folles, Never Gonna Dance, Imaginary Friends, Hairspray, and The Rocky Horror Show, among others. Despite Mitchell's choreography experience, On Your Feet! is choreographed by Sergio Trujillo, who also choreographed Hands on a Hardbody, Leap of Faith, The Addams Family, Memphis, and Jersey Boys.
Ana Villafañe Makes Her Broadway Debut as Gloria Estefan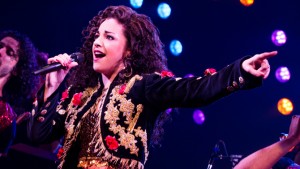 Many of the actors in On Your Feet! are making their Broadway debuts, but most notably is the star Ana Villafañe, who plays the lead role of Gloria Estefan. Looking very similar to her, Villafañe is a Cuban American actress who even attended the same high school as Gloria Estefan in Miami, Florida. She was found through an open casting call, and by the third audition she was performing in front of Jerry Mitchell. The story as penned by Alex Dinelaris centers on the point at which Gloria suffered a spinal injury during a tour bus accident in 1990.
The musical begins at this moment and then flashes back, taking us through her career. In addition, her husband Emilio Estefan is equally represented, from being her first boyfriend to her husband to her champion and music producer. (Emilio is played by Josh Segarra, whose one other Broadway credit is Lysistrata Jones). In that this story includes both that of Emilio and Gloria, the plot touches on the business side as well as what you see on stage. In that way, it can be compared both to the musicals Motown and Beautiful.
Sappy Sweet, Familiar Bio Musical
Following the Chicago trial run, the press was quite enthusiastic. They remarked that the show was a bit on the sappy side, as it was difficult to compelling dramatize the existence of a woman who, apart from the injury she suffered in 1990, has lived a very charmed life. However, the show is reportedly exactly what the built in fanbase will be expecting: a delightful bio musical structured like a TV-movie but with a heavy dose of live performance and enchanting songs that do what the title of the musical says it will: make you get up "on your feet."