On the Move? Make Sure That Pedicab is Licensed
As Of Last Week, The Pedicab Industry Now Must Have Proper Licensing And Insurance After A Recent Surge In Popularity Over The Last Few Years
---
New York City Laws Change Requirements For Pedicab Industry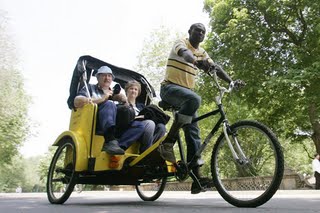 New Yorkers have many ways to traverse the city, from subway to cab to bus to their own two feet--but one of the newest ways is someone else's--feet that is.
You've probably seen the person-drawn cabs hanging out at tourist spots like museums, near Central Park, and even on Fifth Avenue. But until recently, many of the drivers (?) runners? pullers? were unlicensed.
Licenses Are Now Required
This past weekend was the deadline for them to apply for medallions, which indicates that the pedicabs have been inspected and have rate cards posted. In addition, the licenses mean that they've passed safety inspections on tail and headlights, seat belts, and brakes. City laws also require pedicabs to have insurance that covers both riders and drivers.
Estimates indicate that there are thousands of pedicabs on the road; drivers had a 60-day period in which to complete the applications for licenses. More than 150 businesses applied for close to 850 licenses; prior to last Friday, 943 pedicabs were registered.
Pedicab Industry Has Taken Off
While the pedicab industry probably began as early as 1995 down in the East Village, it really took off in the last few years. Many pedicab drivers have actually asked for the regulations since so many unregistered cabs have flooded the streets in recent years.
A number of people view them as a nuisance, while others admire the easy-going attitude that characterizes this unorthodox form of transportation. Our advice? If you do choose to travel under someone else's steam, make sure they have a license—and a lot of stamina.