"Oh, Hello on Broadway" Completes Its Run
Nick Kroll And John Mulaney Have Concluded Their Stint On Broadway In Oh, Hello After A Successful Production Directed By Alex Timbers Which Was Filmed For Future Broadcast.
---
Nick Kroll And John Mulaney Wrap Up Their Comedic Production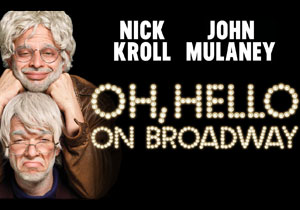 On January 22, 2017, Oh, Hello on Broadway played its final performance at the Lyceum Theatre. The show had begun previews on September 23, 2016 ahead of an opening night on October 10, 2016.
Directed by Alex Timbers (Bloody Bloody Andrew Jackson, Rocky, Peter and the Starcatcher), the show starred two Broadway outsiders: Nick Kroll and John Mulaney. Best known for their success in the world of comedy, these two have been collaborating on the Oh, Hello Show for many years now.
A Successful Comedy Set In The Early 2000s on Broadway
With its origins in the early 2000s at a now-defunct New York comedy club called the Rififi, Kroll and Mulaney honed their characters which then became famous and eventually found their way to Broadway. In the show, Nick Kroll played Gil Faizon, and John Mulaney played George St. Geegland, both of whom are septuagenarians from the Upper West Side of New York City who love tuna fish and wear turtlenecks.
While the actual actors playing these parts are in their 40s, the show was a geriatric satire, not so much intending to make fun of old people in general, but rather to play out a series of specific and hilarious elements that are unique to these two particular invented characters.
Recoupment And A Filmed Version On The Way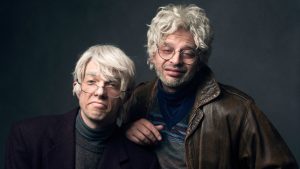 While the reviews were originally mixed, with some critics finding the material unfitting for the milieu of Broadway, the show certainly found its audience.
Between the built-in audience of comedy fans who flocked to the Lyceum Theatre to see a live version of this show made famous on television, through such outlets as Comedy Central's Kroll Show, and the theatregoers who were looking for a change of pace beyond the usual selection of dramas, theatrical comedies, and musicals, Oh, Hello on Broadway had a consistently full house.
Comedy Central In Considerations
Over the course of 138 performances including previews, the show brought in a total gross of $10,160,117. With an initial capitalization of $2.9 million, on top of the accumulating weekly running costs, the show managed to break even and enter profits announced as of January 18, 2017, just as the show was beginning the final week of its run.
In addition, due to the success of the show, it was announced at the same time at the Broadway production would be filmed over the course of two performances in its final week: January 20, 2017 and January 21, 2017. The show will be broadcast on a future date to be announced. While it is unclear in what form or where the broadcast will take place, a likely network would be Comedy Central, as that channel has been the home for the Oh, Hello show in its previous incarnations.
Broadway Stage Welcomes Comedy
While Kroll and Mulaney may not be returning to Broadway anytime soon, unless either one chooses to take a crack at a bona fide role in a theatrical production, the success of Oh, Hello on Broadway, along with other recent shows such as Lewis Black's Black to the Future, demonstrate that there is a market for straight-up comedy on the Broadway stage.