MTC Production of "Heisenberg" Concludes
After A Solid Trial On Broadway Heisenberg, By Simon Stephens Starring Mary-Louise Parker And Denis Arndt, Plays Its Final Show.
---
Mary-Louise Parker And Denis Arndt Wrap-Up Run In Simon Stephens Broadway Play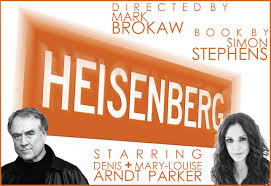 This past week, Heisenberg played its final performance at the Samuel J. Friedman Theatre in a Manhattan Theatre Club production. It had been running in previews since September 20, 2016, with an official opening night that took place on October 13, 2016.
This play by Simon Stephens (The Curious Incident of the Dog in the Night-time) received generally positive reviews upon its opening night. In a production directed by Mark Brokaw (Rodgers + Hammerstein's Cinderella, Cry-Baby, The Constant Wife), this Broadway run was a transfer from an acclaimed Off-Broadway run that played at New York City Center Stage II in 2015.
Large Production Added To The Magic
When the announcement was made to transfer to Broadway, many critics were dismayed that it was an unnecessary expansion of a two-hander that did very well on a small scale. However, upon viewing the larger production, reviewers generally agreed that the larger production was even more magical than the original.
In a play about love named after the German physicist Werner Heisenberg, Stephens crafts a beautiful, multifaceted exploration of the collision of stillness and constant motion in the case of human emotion. With two highly acclaimed performances by Denis Arndt, the acclaimed British actor, and Mary-Louise Parker, an MTC diehard whose previous credits include The Snow Geese, Reckless, and Proof, this production was successful from a critical perspective, and may be a contender in the spring awards season.
A Financially Risky Production Doesn't Quite Pay Off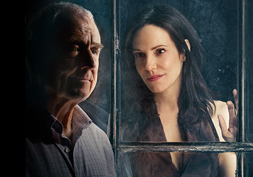 Despite the wide critical acclaim, Heisenberg never took off at the box office. Over the course of the run, the average percentage reached of its gross potential was 51.5%, and the average paid admission was only $78.43.
With an average top ticket price of $156.25, the audience capacity on average was filled up to 89.23%. Of a total 65,526 seats to sell throughout the run, tickets were sold for 57,555 of them. Therefore, even with very low running costs due to the small size of the cast, this show could not have broken even or made any profits.
Well-Known Hollywood Stars In A Stunning Play
Nevertheless, as this is a Manhattan Theatre Club production, much of the show's capitalization was made up for by the subsidized subscriber base, and therefore such not-for-profit-originated Broadway shows have a leg up on the purely commercial shows, which can allow for a degree of risk.
In this case, a play that was only known about in small theatre circles, and starring two actors who are well-known, but not A-list top Hollywood stars, would have been a very risky endeavor for a commercial Broadway run. In this case, it provided an opportunity for audiences to see these fantastic actors perform in a gorgeous play, as well as for more of Simon Stephens' work to be viewed in America, where he became well-known for his Tony Award winning play, The Curious Incident of the Dog in the Night-time.
Highest-Levels Of Theatrical Production
Nevertheless, there was a lot of room for improvement in the box office grosses, and the show will not likely make its money back for the investors. Still, the lovely thing is that that is not the point. The audiences who did see Heisenberg were fortunate to witness an insightful, well-acted play at the highest levels of theatrical production.
Discount Broadway Tickets
---
---