"Motown the Musical" Is Back on Broadway
Motown Is Back On Broadway After Its National Tour In A Leaner Fierce Production With A New Cast And Irresistible Score.
---
Commercial Hit But Critically Mixed, "Motown" Returns To Broadway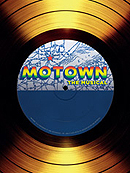 On March 11, 2013, Motown the Musical leapt onto Broadway without so much as an out-of-town tryout. For new musicals, even those of the jukebox nature without an original score, an out-of-town tryout is often integral to preparing the show for the tough waters of Broadway, where critics are harsh and tourists are torn into multiple directions.
When Motown made its debut, the New York critics were skeptical. The irresistible score was undeniable, but many reviewers felt that the story was unsatisfying, the musical was overstuffed with too many hits and not enough substance, and the conception was unfocused and unwieldy. Nevertheless, the audiences were thrilled.
"Motown" Features Classic Hit Songs
Perhaps it was merely the chance to relive a nostalgic era through the Motown hits, or perhaps it was merely the opportunity to jive along with classic favorites such as "Ain't Too Proud to Beg," "Sugar Pie Honey Bunch," "My Girl," "My Guy," "Mercy, Mercy Me," "Stop! In the Name of Love," and countless others, but the box office thrived.
The show ran for almost two years, clocking in 738 performances in addition to 37 preview performances, and recouped its fairly hefty capitalization of $18 million before finishing its Broadway run.
A Leaner, Meaner Musical After National Tour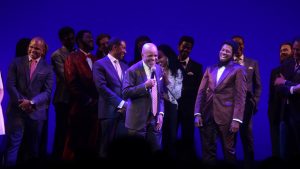 When Motown left Broadway after the final performance of its original run on January 18, 2015, it had already announced its plans to go on national tour and then return to Broadway.
While this is an unusual move, the producers knew what they were doing. As Motown never had the chance to develop through an out-of-town tryout, and it had already proved to be a commercial success, the producers decided to use the opportunity for a national tour to revamp the musical, and to reduce its running costs.
Smaller Cast And Smaller Theatre
While the prior Broadway run had 41 people onstage and a weekly running cost of $850,000, the touring production was slimmed down to 33 performers, with a weekly running cost of $675,000. In addition, to add to the spectacle despite the smaller cast, the new production incorporates a lot more projection video.
In addition, while the previous production occupied the 1505-seat Lunt-Fontanne Theatre, the new Motown plays at the Nederlander Theatre, recently vacated by the short-lived Disaster! musical, which has only 1,232 seats. The tour was a great success as well; when it launched in Chicago, they were sold out 16 weeks in advance, and brought in over $22 million in that city. Therefore, when Motown began performances once again on Broadway on July 12, 2016, it had a reason to believe there was still great demand for the show.
A Cast Led by Chester Gregory, Allison Semmes, Jesse Nager, And Jarran Muse
Having traveled around the nation and back, Motown has picked up some new performers along the way. In the role of Berry Gordy is Chester Gregory, whose previous Broadway credits include Sister Act and Cry-Baby. In the role of Diana Ross is Allison Semmes, who was in the original production of Motown in a smaller role, as well as The Book of Mormon.
As Smokey Robinson, the performer Jesse Nager shines; he was an original understudy for this part in the first Motown incarnation, and his other credits on Broadway include Scandalous and Mary Poppins.
Directed By Charles Randolph-Wright
Furthermore, the part of Marvin Gaye is now played by Jarran Muse, who understudied this part in the original Motown production, and who has also been in Irving Berlin's White Christmas. Like the original production, this redux of Motown is directed by Charles Randolph-Wright, and choreographed by Patricia Wilcox and Warren Adams. It has a book by Berry Gordy, and music by The Legendary Motown Catalog.