"Mothers and Sons" To Close on June 22
Terrence McNally's New Play Mothers And Sons Will Close On June 22. It Starred Tyne Daly As The Mother Of A Son Who Had Died 20 Years Ago From AIDS.
---
Terrence McNally's New Broadway Play Stars Tyne Daly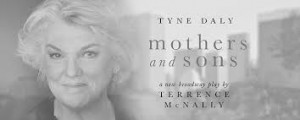 Mothers and Sons, a new play by Terrence McNally, has been running at Broadway's Golden Theatre since February 23, 2014. Starring Tyne Daly, a frequent McNally collaborator, this play opened on March 24, 2014 to fairly positive reviews.
The production was directed by Sheryl Kaller (Next Fall), produced by Tom Kirdahy and Roy Furman, and the cast also featured Bobby Steggert, Grayson Taylor, and Frederick Weller.
"Mothers And Sons" Received Two Tony Award Nominations
The play received two Tony Award nominations: Best Play, and Best Performance by an Actress in a Leading Role for Tyne Daly. However, soon after the Tony Awards played out and Mothers and Sons did not win any honors, the announcement was made that the show will close on June 22, 2013, having played 104 performances and 33 previews.
Next Season, McNally Returns With "It's Only A Play"
McNally is one of the few living playwrights whose work has proved the test of time, with his new plays still consistently being produced on Broadway, irrespective of their star power or recognizable brand titles.
Mothers and Sons is McNally's 20th Broadway show, marking the 50 year anniversary of his work being shown on Broadway. This is by no means the end of his streak, however, as next season his play It's Only a Play will be revived starring Nathan Lane, Matthew Broderick, Stockard Channing, F. Murray Abraham, Megan Mullally, and Micah Stock.
Nathan Lane And Matthew Broderick Reunite On Broadway
Directed by Jack O'Brien, that new production will begin previews in the fall at the Gerald Schoenfeld Theatre, with an opening night set for October 9, 2014. That is sure to be an exciting production, as it will reunite Lane and Broderick who co-starred in the celebrated 2001 Broadway hit The Producers, not to mention the rest of its stupendous cast and creative team.
Financial Woes
Mothers and Sons has been struggling financially for some time, never earning much more than 30% of its gross potential since it began performances. With an average ticket price around $65, the production has been offering heavy discounts throughout its run.
In the week ending June 8, 2014, the show only grossed $197,920, which is only 25.79% of its gross potential, and it filled up to only 43.9% of its audience capacity. It must have been holding out for the Tony Awards, and when it did not win any, it cut its losses and announced closing.
Critical Performance
Like many of McNally's plays, Mothers and Sons deals with concepts of homosexuality and AIDS. It is the story of Katharine Gerard (played by Tyne Daly), who lost her son to AIDS 20 years ago, and now decides to visit her son's partner Cal (Frederick Weller), who has since married a man named Will (Bobby Steggert). Ben Brantley of The New York Times was lukewarm in his review, opining that the play's intellectual debate overshadowed its emotional effects.
Still, he commended Tyne Daly's performance and the production for the unstated sorrow beneath the words. Other reviewers, such as NBC New York, Time Out New York, and the Associated Press, all gave more positive reviews. Still, the play was unable to compete in this difficult marketplace against much more crowd-pleasing titles. Perhaps the next McNally show will fare better.