Mike Tyson's One-Man Broadway Show Closes
---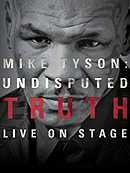 After a brief bout with Broadway, Mike Tyson steps out of the ring today.
Mike Tyson: Undisputed Truth
started performances on July 31 and now concludes its very limited run at the Longacre Theatre. Directed by Spike Lee and written by Kiki Tyson (Mike's wife),
Undisputed Truth
was a one-man show in which the former heavyweight boxing champ recounted both his successes and the many controversies and low points in his life.
Mike Tyson: Undisputed Truth
was initially set for just a week-long run, but soon extended to two weeks.
The reviews were mostly mixed to negative, some citing the show's structural clumsiness, Tyson's hard-to-understand speech, and his vitriolic rants against people like ex-wife Robin Givens as particular problems. But that hardly mattered, as the show managed to sell quite well on the strength of Mike Tyson's celebrity, especially given the short run. In its last week, the show only sold 61.54% of available seats but had an average paid admission of $145.87, which is a record for shows performed at a Broadway Theatre.
Broadway was not actually the world premiere venue for Undisputed Truth. Tyson unveiled the show in Las Vegas earlier this year. Now that the Broadway engagement is over, it's unclear was the next step for Mike Tyson: Undisputed Truth is. A world tour might be a logical next move, but nothing has yet been announced .
Discount Broadway Tickets
---
---