Marvin's Room Plays Final Broadway Performance To No Fanfare
Marvin's Room Closed To Dismal Box Office Sales And Mixed Reviews, Disappointing Fans Of The 1990S Off-Broadway Hit And Film.
---
Revival Run Concludes To Little Fanfare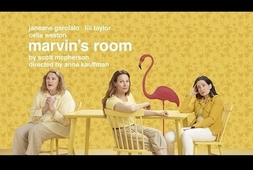 On August 27, 2017, Marvin's Room will play its final performance at the American Airlines Theatre in a Roundabout Theatre Company production. The show had been running since its first preview on June 8, 2017, followed by an opening night on June 29, 2017.
This play by Scott McPherson originally premiered in a regional production at the Goodman Theatre in Chicago in 1990, followed by a production at the Hartford Stage, and eventually Off-Broadway at Playwrights Horizons, where it ran from fall 1991 to winter 1992.
A Heartfelt Storyline
It then ran again Off-Broadway, this time downtown at the Minetta Lane Theatre, throughout the spring and summer of 1992. The play concerns two sisters: Bessie, who takes care of their father but also suffers herself from leukemia, and Lee, a free spirit who can barely take care of herself.
While the play does not directly concern AIDS, McPherson himself suffered from the epidemic, and then passed away in 1992 at the age of 33. An outpouring of support from his friends and fans allowed his play to sustain its life, playing several more regional productions throughout the 90s at theatres including the Kennedy Center for the Performing Arts in Washington, D.C., the Tiffany Theatre in Los Angeles, and the Hampstead Theatre in London.
Movie Adaptation With Big Stars
It was also made into a film in 1996 starring Meryl Streep, Diane Keaton, Leonardo DiCaprio, and Gwen Verdon. And so, even though the Broadway production was a long time coming, when it finally hit the stage, it did not make a big splash.
Janeane Garofalo, Lili Taylor, And Celia Weston Starred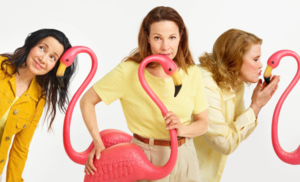 In the Broadway production of Marvin's Room, the role of Bessie was played by Lili Taylor (The Three Sisters, films such as I Shot Andy Warhol, Mystic Pizza, Say Anything…). The role of Lee was played by Janeane Garofalo, making her Broadway debut; her film credits include Wet Hot American Summer, Reality Bites, and The Matchmaker.
As for the role of Ruth, their aunt, she was played by Celia Weston (True West, The Last Night of Ballyhoo, Summer and Smoke). The production was directed by Anne Kauffman, making her Broadway debut.
Anne Kauffman's Broadway Credits
Her Off-Broadway directing credits include The Thugs, You Got Older, Body Awareness, This Wide Night, Belleville, Detroit, and Marjorie Prime. Despite this impressive list of accomplishments from the cast and creative team, the production of Marvin's Room never got off the ground.
That was partly due to poor timing, as it began performances just around the time of the Tony Awards, and thus was not eligible for consideration. Furthermore, opening in the summer is tough for any straight play, as summer fare tends to lean more towards long-running musicals that appeal to tourists. As such, Marvin's Room had trouble attracting an audience throughout its whole run.
Box Office Was Dismal From Start To Finish
Over the course of the run, including all the weeks of reported figures thus far, which just excepts the last week, the average percentage reached of gross potential for Marvin's Room was 31.20%. With a top ticket price of $149.00, the average admission paid throughout the run was $49.93.
Even with Roundabout's subscriber base, the audience was only filled up to 71.65% capacity on average throughout the run. While these numbers could certainly be worse, Marvin's Room was at or near the bottom of the charts throughout its entire run amongst all Broadway shows. For instance, the last week of reported box office figures, the week ending August 20, 2017, it brought in a weekly gross of $193,030, which represents 28.9% of its gross potential.
Bad Week For "A Doll's House, Part 2"
This was the second lowest of the week; the only one lower was A Doll's House, Part 2, which brought in $192,023, or 27.3% of its gross potential. While that show did benefit from Tony buzz, it has now fallen down to the bottom of the charts. Unlike Marvin's Room, however, A Doll's House, Part 2 is scheduled to run through to January 7, 2018, if it can last.