"Mamma Mia!" Concludes Its Amazing 14 Year Run
Mamma Mia! concludes its almost 14 year run on September 12, 2015 as the eighth longest running show on Broadway.
---
5,773 Performances and Productions All Over the World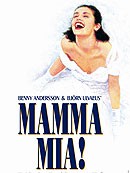 On September 12, 2015,
Mamma Mia!
played the final performance of an astonishing run. Originally beginning Broadway previews on October 5, 2001 at the Winter Garden Theatre, the Abba jukebox musical officially opened on October 18, 2001. This was following its successful London premiere in 1999. It was nominated for five Tony Awards including Best Musical, but did not win any. However this did not stop the show from having a long life. Having now played continuously for almost 14 years,
Mamma Mia!
is the eighth longest running show on Broadway to date. The show played the Winter Garden Theatre for 12 years, and then transferred to the Broadhurst Theatre on November 2, 2013, where it concluded its run this week. The transfer was to make room for
Rocky the Musical
, which was an underwhelming show but had high expectations, enough to persuade
Mamma Mia!
to move theatres. In any case, the show has continued to delight audiences at the Broadhurst, located on West 44th Street between Broadway and 8th Avenue. Upon closing, the show played a total of 5,773 performances, including 14 preview performances. In addition to playing in London and New York,
Mamma Mia!
has had runs in countless countries, including Canada, Australia, Germany, Japan, South Korea, Spain, Sweden, Norway, Mexico, the Netherlands, South Africa, France, Brazil, Denmark, Russia, New Zealand, Austria, the Czech Republic, Israel, and Finland. In addition to playing in major cities, the show has had national tours in the United States, United Kingdom, Australia, Spain, Russia, New Zealand, and South Africa.
A Stellar Creative Team and the Launch of a Brand
Mamma Mia!
has a book by Catherine Johnson, and music and lyrics by Benny Andersson and Bjorn Ulvaeus of Abba. Some of the songs were also written with Stig Anderson, and additional material is by Martin Koch, who also arranged the music. The show is directed by Phyllida Lloyd, and choreographed by Anthony Van Laast. The original cast included Louise Pitre, Judy Kaye, Tina Maddigan, Karen Mason, and Dean Nolen. The show deals with a wedding a tiny Greek island, when the bride to be discovers her mother's old diary, which recounts love affairs with three different men. She decides to invite each of the three men to the wedding, believing that one of them is her father. The show is an incredibly fun and uplifting show, including such timeless Abba hits as "Money, Money, Money," "The Name of the Game," "Chiquitita," "Mamma Mia," "Thank You For The Music," "Voulez-Vous," "Under Attack," "Dancing Queen," "Super Trouper," "Gimme! Gimme! Gimme! (A Man After Midnight)," and "Take a Chance on Me." The show was adapted into a successful film in 2008, starring Meryl Streep, Amanda Seyfried, Colin Firth, Stellan Skarsgard, and Julie Walters.
Over $2 Billion Worldwide and a Steady Hit for Years
Over the almost 14 years of running on Broadway,
Mamma Mia!
grossed a total of over $623 million. Over the course of all of its international productions, the show has brought in over $2 billion. From the first weeks after opening, the show was reaching in the high 90s to over 100% of its gross potential, becoming a quick hit as the buzz caught on. In 2001, the top ticket price was $100, and it is remarkable how low that seems now compared to some shows whose top ticket prices exceed $400. In any case, the show was a fast hit, bringing in over a million dollars in many of its running weeks. In January 2003, the top ticket price rose to $125, but then went back down to $100 in April 2003. However, in July 2004, the top ticket price took a quick leap to $201.25 with the introduction of premium ticket pricing. At the time of closing, the top ticket price was $225, and the final average paid admission was over $100.