"Lord of the Dance: Dangerous Games" Triggers Renaming of "Flatley Way"
Lord Of The Dance: Dangerous Games Opened To Mixed Reviews From Critics And The Broadway Production Is Unfortunately Struggling With A Very Disappointing Box Office Performance
---
Irish Dancing Show Opens on Broadway, and "Flatley Way" Named in Its Honor
Lord of the Dance: Dangerous Games is presently open and running at the Lyric Theatre on Broadway. This show directed, choreographed, created, and produced by Michael Flatley is also Flatley's Broadway debut as performer. The Irish dance magnate has brought a show of his to Broadway once before, Riverdance – on Broadway, which graced the Broadway stage in 2000 to 2001. At that time, however, he did not perform in the show due to a disagreement with the producers of the earlier incarnation in London.
His Broadway debut as a performer in Lord of the Dance: Dangerous Games is coming with quite a bit of fanfare. In a rare honor for any Broadway artist, especially one making his Broadway debut, a section of W 42nd Street nearby 7th Avenue was renamed "Flatley Way." On Tuesday November 10, 2015, a brief naming ceremony was held in his honor in Times Square, accompanied by the cast of Lord of the Dance: Dangerous Games. Flatley reportedly said that this is a dream come true for him, and that he thrives on the busy energy of New York City.
Flatley to Retire from Dancing After This Show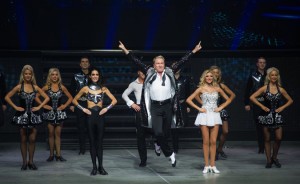 Michael Flatley paved the way to becoming arguably the most famous man in contemporary Irish dance today, by rebelling against the traditional modes of restraint and small venues of this dance mode. In contrast, his shows are rife with glorious spectacle, projections of bombastic imagery, and loose storylines intended to showcase the dance as the primary element of the show. In this case, Michael Flatley also appears as performer, which is the show's main attraction. However, he does not appear until near the end of the show.
According to Brian Seibert of The New York Times, the best reason to see this show is to see Michael Flatley dancing, as this show reportedly marks his retirement from appearing on stage as a performer. However, Seibert continues, the only way to see Flatley is to sit through a Michael Flatley show. Therefore, he acknowledges that Flatley is an attraction worth waiting for, but that the conception of the show is lacking especially in comparison to the variety of intriguing Broadway fare surrounding this show at the Lyric Theatre.
Show Is Having a Tough Time Filling Seats
In the last reported week of ticket sales, the week ending November 29, 2015, Lord of the Dance: Dangerous Games brought in only $311,737, and that was in a week of 9 performances, one more than the usual 8. This represents only 18.49% of the show's gross potential that week. This is the poorest performance yet out of the four weeks that the show has been running. The Lyric Theatre is a notoriously difficult venue to fill, as its enormity is only fitting for shows that rely on spectacle.
While Lord of the Dance is arguable such a show, it also has very little narrative element to back it up, nor does it have a Hollywood star to draw in ticket sales, or a brand name such as Spiderman. Though Michael Flatley is somewhat of a name, perhaps more so now that a portion of 42nd Street is named after him, he is by no mean the box office mojo that would be required to fill up the Lyric Theatre to any suitable level of capacity. However, Lord of the Dance: Dangerous Games is only slotted for an eight week limited engagement, as it has been all along, so chances are it will be able to hold on until the close of its run in early January.