"Long Day's Journey Into Night" Closes on Broadway
On June 26, 2016, Eugene O'Neill's Long Day's Journey Into Night Played Its Final Performance Of The 2016 Revival.
---
Starry Roundabout Revival Of Eugene O'Neill Classic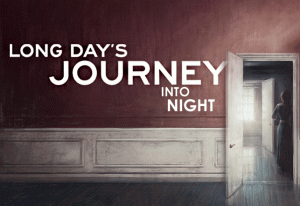 This past week, less than a month after the Tony Awards, the 2016 revival of Long Day's Journey Into Night played its final performance at the American Airlines Theatre in a Roundabout Theatre Company production. Directed by Jonathan Kent, whose previous credits include Faith Healer, Man of La Mancha, and Hamlet, this production received generally excellent reviews from critics.
In addition, the show took home two Tony Awards – those for Best Performance by an Actress in a Leading Role in a Play for Jessica Lange, who played Mary Cavan Tyrone, the matriarch of the household, as well as Best Lighting Design in a Play for Natasha Katz.
"Long Day's Journey Into Night" Earns Two Tony Wins
These two wins came amidst a total of seven Tony Award nominations, making it the most nominated straight play of the year. The only shows that received more nominations were three musicals: Hamilton, Shuffle Along, and She Loves Me.
The nominations it received that it did not win were those for Best Revival of a Play, Best Performance by an Actor in a Leading Role in a Play for Gabriel Byrne, who played James Tyrone, the patriarch of the family, Best Performance by an Actor in a Featured Role in a Play for Michael Shannon, who played James Tyrone, Jr., his older son, Best Costume Design of a Play for Jane Greenwood, and Best Direction of a Play for Jonathan Kent.
A Modest Performance At The Box Office
While the show had many things going for it, such as a recognizable title, revered playwright, and star-studded cast featuring Jessica Lange, Gabriel Byrne, Michael Shannon, and John Gallagher, Jr., there were also several factors that limited its appeal at the box office.
One is the show's length; clocking in at 3 hours and 40 minutes, the show was not for those with a short attention span. Furthermore, while it is a well-known title that many people study in school, that also has the counter effect of losing some of the appeal of a newer show.
Premiered In 1956
Since the play's Broadway premiere in 1956, there have been a total of five revivals, the last of which only took place 2003. There have also been several high-profile Off-Broadway and regional productions of the play in recent years. Therefore, this revival was not a sell-out hit at the box office.
Overall, over the course of the run, the average percentage reached of gross potential of the show was 74.16%. The highest gross was reached in the final week of performances, when the show brought in $502,602, which represents 86.23% of its gross potential. That week, the average paid admission was $97.01, and the audience was filled up to 100.7% capacity, breaking the 100% mark for only the second time.
Final Week Shows Small Boost In Sales
While that being the last week did incentivize some procrastinating ticket buyers, it also only showed an increase of $11,078 from the week before, demonstrating that even the last performances didn't propel demand to an extreme level. Overall, the show was a critical success, despite not being a commercial one.