Little Shop of Horrors Sing-along at Brooklyn Academy of Music (BAM) October 25
Little Shop Of Horrors Follows The Lead Of The Sound Of Music By Offering A Special Sing-Along Screening Inviting Theatregoers To Dress Up And Sing Along
---
"Sing-Along Sound Of Music" Special Screening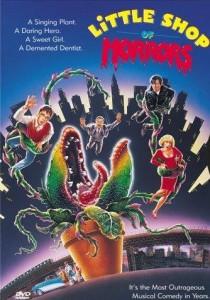 People who love show tunes usually love nothing more than singing along to their favorite cast recordings. Even if -- or maybe especially if -- they aren't good enough at singing to perform onstage themselves.
The Sing-along Sound of Music was one of the first events to capitalize on this by hosting special screenings of The Sound of Music in which attendees were encouraged to dress up as characters and to sing along during the movie's musical numbers.
"The Rocky Horror Picture Show" Midnight Screenings
Of course, even before that, The Rocky Horror Picture Show was well-known for its midnight screenings in which participants would even bring props. Like Rocky Horror, the Little Shop of Horrors holds a certain cult status.
The 1986 movie musical is based on the dark 1982 Off-Broadway musical written by writer/lyricist Howard Ashman and composer Alan Menken (and the musical was in turn based on the 1960 Roger Corman film).
"Little Shop Of Horrors" Sing-Along

On October 25 at 8pm, the Brooklyn Academy of Music (BAM) will offer a sing-along screening of Little Shop of Horrors, which will even include an appearance by the movie's star, Rick Moranis. Little Shop of Horrors is about a meek florist by the name of Seymour Krelborn and his discovery of a strange plant species that eats people. The show, which features a mix of '60s style rock/doo-wop and more traditional show tunes, is best remembered for songs like the ballad "Somewhere That's Green" and the catchy title song.
The original Off-Broadway production of Little Shop of Horrors starred Lee Wilkof and Ellen Greene, who reprised the role of Audrey for the movie. Little Shop didn't make its Broadway debut until 2003, when a revival starring Hunter Foster, Kerry Butler, and Douglas Sills played the Virginia Theatre (now the August Wilson Theatre). To find out more about the sing-along Little Shop of Horrors event being hosted by BAM, go to www.bam.org.