Like a Banana With Your Hot Dog? Head to Central Park
Starting Next Month, New York City Will Introduce New Green Carts Loaded With Fresh Fruits And Vegetables In Areas With Heavy Pedestrian Traffic, Including Central Park And Fifth Avenue
---
New York City Expands Green Cart Campaign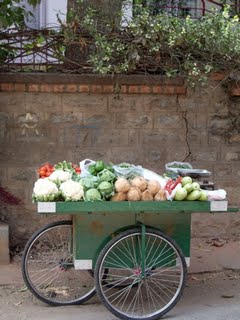 OK, New Yorkers, it's time to think green and healthy instead of brown and salty. If you automatically search out a hot dog cart or a pretzel vendor when you're in New York's Central Park, start thinking bananas and strawberries instead. Starting next month, the city will expand its Green Cart campaign in an effort to get New Yorkers to eat healthier--even on the go.
The new carts, loaded with fresh fruits and vegetables, will be located in areas with heavy pedestrian traffic, including Fifth Avenue between East 80th and East 81st Streets; Fifth Avenue between East 86th and East 87th Streets, and West 100th Street between Lenox Avenue Central Park West. Part of the choice of locations was an effort to draw in tourists who visit the Metropolitan Museum of Art (Fifth Avenue at 81st Street) and the American Museum of Natural History (Central Park West and 81st Street).
Get Fresh Produce at Affordable Prices
Produce will come from the Hunts Point Market, and will include goodies at competitive prices, such as three bananas for a dollar; mangoes for $1.50; and a half-pound box of strawberries for $2. And if you're craving all three, you can now try something new: fruit salad will be offered at $3 a pound. (Whether you want to walk around Central Park or the Museum of Natural History eating fruit salad is another story.) About 30 carts in Central Park already offer snack foods such as pretzels, peanuts, ice cream and hot dogs throughout the park.
New Yorkers' reactions to the carts is mixed: Some say they're not likely to buy a banana while strolling through the park, while other applaud the larger selection of healthier, fresher food. In any event, now you'll have a choice. A pretzel with a side order of mangoes, anyone?
Discount Broadway Tickets
---
---