Les Misérables Returning To Broadway in 2014
Les Misérables Is Currently Touring Across The U.S. And Internationally, After Attention From The Recent Film Adaptation, A Revival Will Be Reimagined For Broadway
---
Reimagined "Les Misérables" Returns To Broadway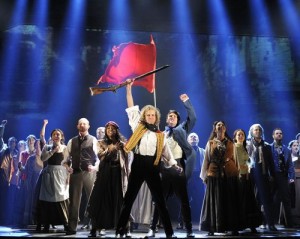 It turns out that you just can't keep a good show closed. Though the original 15-year Broadway run of the global hit Les Misérables ended in 2003, and a Broadway revival in 2006 was relatively short-lived, producer Cameron Mackintosh announced today that he'll be bringing the beloved musical back to Broadway next year.
The production of Les Misérables that will be coming to Broadway in March 2014 is a re-imagining of the musical which has been successfully touring across the U.S. and internationally. The New York Times has referred to this version of Les Miz as "a splendidly reworked, unquestionably spectacular production from start to finish".
Broadway Is Buzzing After Film Adaptation
The combination of the attention that Les Misérables has recently received due to its successful, award-winning film adaptation starring Hugh Jackman and Russell Crowe, and the positive buzz that the touring production has received, is most likely what has prompted the show's return to Broadway.
Cameron Mackintosh stated, "I am delighted that Broadway audiences will now join the millions of Americans who have already flocked to see this glorious new staging and spectacular re-imagined scenery inspired by the paintings of Victor Hugo."
Discount Broadway Tickets
---
---