Laura Osnes and Corey Cott Star in "Bandstand"
Bandstand Began Previews At The Jacobs Theatre On Broadway Starring Laura Osnes And Corey Cott, In A Production Directed And Choreographed By Andy Blankenbuehler
---
"Hamilton" Choreographer Andy Blankenbuehler Directs New Musical on Broadway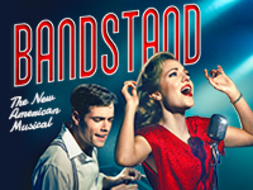 Bandstand is a new musical with a score by Richard Oberacker, and book and lyrics by Robert Taylor and Richard Oberacker. Starring Laura Osnes (Rodgers + Hammerstein's Cinderella, Bonnie and Clyde, Anything Goes) and Corey Cott (Gigi, Newsies the Musical), this show takes place in 1945, shortly after World War II. Laura Osnes plays Julia Trojan, a recently widowed young woman whose husband died in the war. Corey Cott plays Donny Novitski, a musician and war veteran, who takes a chance in deciding to compete in a radio competition in New York City that guarantees instant stardom.
In teaming up with a mismatched band of veterans, Donny finds Julia (Laura Osnes), whom he brings on to be their lead singer. Naturally, the two fall in love, and in this era of big band swing music, this leads to a foot-stomping, high-stepping story about big band music and love in the post-war era of complicated relationships and difficult re-beginnings. Notably, the musical is directed and choreographed by Andy Blankenbuehler, who has choreographed many Broadway shows including Cats, Hamilton, Annie, Bring It On the Musical (which he also directed), In the Heights, 9 to 5, and The Apple Tree.
Positive Reviews Following Paper Mill Playhouse Production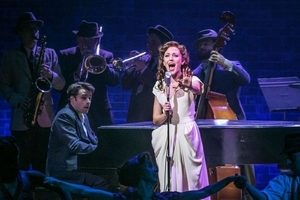 In October 2015, Bandstand had its world premiere at the Paper Mill Playhouse in Millburn, New Jersey, as a way to tryout the show before coming to Broadway. At the time, the show was very well received. Matt Windman from AM New York gave it 3.5 out of 4 stars, calling the musical a "delight," and concluding that it definitely has Broadway potential. Michael Glitz from the Huffington Post gave it 3 out of 4 stars, declaring that the show has a lot going for it to make it in New York City, including two appealing leads, a propulsive visual style led by Andy Blankenbuehler's sharp direction, and a story that can appeal to the whole family.
NJ.com reviewed the show with the headline: "Did the Paper Mill just premiere its best show in years?" This paper loved the show's rousing score and frenetic dance numbers, while appreciating how it refused to shy away from the weighty subject matter. All in all, the reviews were quite positive, and furthermore, they allowed for enough time for the creative team to rework the book and lyrics somewhat prior to arriving on Broadway. With over a year since the tryout run, the Broadway production has taken its time, unlike the show's leads who are rushing to make it in the big city.
A Mediocre Start at the Broadway Box Office
In the last reported week of box office figures, the week ending April 9, 2017, Bandstand brought in a weekly gross of $376,708 across six performances, which represents 47.71% of its gross potential. The previous week, which was the first partial week of two previews, brought in a weekly gross of $170,905, which represents 62.48% of its gross potential. These first two partial weeks are in no way an indication that Bandstand will take off and become a long-running musical, but they are also not as dismal as some of the other shows beginning this season, such as A Doll's House, Part 2.
As this show has a lot going for it, such as the big band feel good musical quality, it will likely stick around for a while longer. However, its longevity will depend upon the reviews that come out following the show's opening night on April 26, 2017. While the show is presently scheduled for an open-ended run, positive word of mouth will be necessary in order for the buzz and box office to pick up.
Discount Broadway Tickets
---
---