Last Chance to See 2012 Tony Award Winning Broadway Shows
Last Chance to See 2012 Tony Award Winning Shows Before They Close As Broadway Prepares For The Upcoming Season: Sister Act, One Man, Two Guvnors, The Best Man and Porgy And Bess
---
Broadway Shows Coming to a Close
As the 2012-2013 season gets in gear, several currently running Broadway musicals and plays are readying to close to make way for the new crop.
Here are four that you should see while you still have the chance.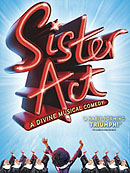 Sister Act (closing August 26) - Raven-Symone (The Cosby Show) is currently starring in this stage version of the popular Whoopi Goldberg movie about a club singer who disguises herself as a nun after witnessing a murder. One of the best of Broadway's fluffy musicals, Sister Act is full of funny characters and toe-tapping '70s soul numbers courtesy of composer Alan Menken.
One Man, Two Guvnors (closing September 2) - This British import has had Broadway audiences rolling in the aisles all summer. A manic farce set in the 1960s, One Man, Two Guvnors includes wild slapstick, hilarious gags involving the audience, and musical interludes featuring a fantastic band playing original rock 'n' roll tunes reminscent of the play's time period.
The Best Man (closing September 9) - Timely for a presidential election year, this 1960 comedy by the late Gore Vidal stands up surprisingly well over 50 years after it was written. The play itself is admittedly good, not great, but its starry cast makes it worth a visit. James Earl Jones is giving the production's most enjoyable performance as a former president, and his impressive list of co-stars includes John Stamos, Elizabeth Ashley, Cybill Shepherd, John Larroquette, and Kristin Davis.
Porgy and Bess (closing September 23) - Though controversial in theatrical circles because of the many changes made from the original version, this Broadway production of the Gershwin folk opera has been largely well-received by audiences and with good reason. A powerful story, strong performances (Norm Lewis and multiple Tony winner Audra McDonald play the leads), and unforgettable music make this a great evening in the theater.