"Lady Day at Emerson's Bar and Grill" Opens on Broadway
Lady Day At Emerson's Bar And Grill, Starring Audra Mcdonald, Opens At The Circle In The Square Theatre, One Of Broadway's More Intimate Venues.
---
Audra McDonald Shines As Billie Holiday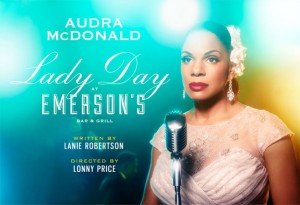 The Circle in the Square Theatre is one of Broadway's more intimate venues, allowing the audience to get up close and personal with the performer in front of them. In the case of Lady Day at Emerson's Bar and Grill, which opened on April 13, 2014, the star is five-time Tony Award winner Audra McDonald, and the personal story is that of the timeless and beloved jazz singer Billie Holiday.
According to the largely positive critical response, this play with music is an engaging and compelling piece, in which McDonald guides her crowd through the journey of Holiday's life – both musical and personal. The play is written by Lanie Robertson, directed by Lonny Price, and the music was arranged and orchestrated by Tim Weil.
Billie Holiday's Notoriety And Fame
The play was first produced at New York's Off-Broadway Vineyard Theatre in 1986, and this is its Broadway premiere. This bio-show recounts the songs that made Billie Holiday famous, as well as the tales that made her notorious. Specifically, she was an alcoholic and heroin addict, who only found balance and solace through the deep bounty of her singing voice.
The fictional set-up is meant to recreate one of Holiday's final performances, at a small, intimate bar in Philadelphia. Fortunately, the Circle in the Square Theatre is able to recreate this venue better than many other Broadway houses might. Still, The New York Times critiqued the show for its lack of believability, for Holiday often performed in a dark room with a spotlight so she could not see her own audience, and she would have never divulged such a personal tale as McDonald does in this portrayal.
Biographical Broadway Hits
This show follows in the tradition of biographical shows based off the lives of now deceased performers, delving into their tragedy as well as their timeless beauty. For instance, End of the Rainbow, also a bio-play with music, ran on Broadway in the spring of 2012, with Tracie Bennett portraying Judy Garland with all her force and folly, including her timeless hits such as "Somewhere over the Rainbow."
Furthermore, the spring of 2013 saw Nathan Lane playing the 1930s burlesque performer Chauncey in The Nance, exploring the ups and the downs of his life. Time and again, producers rely on the familiarity of historical figures recreated by modern-day performers, banking on the double name recognition to move tickets.
"Lady Day And Emerson's Bar And Grill" Mediocre Box Office Response
Lady Day and Emerson's Bar and Grill is just hanging on at the box office. As it is only playing seven performances a week in a theatre with only 682 seats, the show already faces difficulty in competing with the other shows in terms of weekly grosses.
Even so, its weekly figures have been fairly low. In the week ending April 13, 2014, the show grossed $366,156, which was only 58.73% of its gross potential. This is about how well the show has been doing since it began previews. It is scheduled to close on August 10, 2014.