"Kinky Boots" Takes an Unusual Hiatus
Kinky Boots, Consistently Playing To Well Over A Million Dollar Grosses, Takes An Unusual Hiatus This Week While Univision Rents Out The Al Hirschfield Theatre.
---
"Kinky Boots" Performing At The Al Hirschfield Theatre On Broadway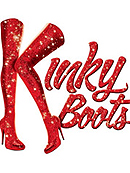 Kinky Boots has been playing at the Al Hirschfield Theatre on Broadway since it began previews on March 3, 2013. With a book by Harvey Fierstein (La Cage aux Folles, Newsies, Casa Valentina), a score by the singer songwriter Cyndi Lauper, and directed and choreographed by Jerry Mitchell (Legally Blonde: the Musical, The Rocky Horror Show revival), the musical is based on the 2005 film of the same name and inspired by a true story.
Kinky Boots is the sensationalized tale of a young man struggling to keep his father's boot factory afloat in England, only to resuscitate it as a maker of boots for drag queens.
Award Winning Musical Is A Resounding Hit
In addition to winning the Tony Award for Best Musical in 2013, it also took home the Tony Awards for Best Score, Best Actor (Billy Porter), Best Sound Design of a Musical, Best Choreography (Jerry Mitchell), and Best Orchestrations (Stephen Oremus), with an additional seven nominations.
Needless to say, the show is a hit, consistently playing to well over a million dollar grosses. In a generally unprecedented move, Kinky Boots took a brief hiatus this past week. Between May 8, 2014 and May 13, 2014, the show went dark, but the theatre did not.
Univision Rents Out Al Hirschfield Theatre
Univision, the American Spanish language television station that boasts one of the largest audiences of Spanish speaking television viewers in the world, rented out the Al Hirschfield Theatre over this period, during the time that the show would have played a full week of eight performances.
The only reason this was possible was because of Univision's monetary power, as they not only paid for the theatre rental, but additionally paid the producers and theatre owners for the lost revenue in ticket sales over the eight performances in the 1,437 seat venue.
Adjusted Broadway Performance Schedule
Furthermore, they also compensated the actors and stage crew, who were paid for their vacation as if they had been playing a regular performance week. Exactly what Univision used this space for is unclear, but press statements affirm that the network used the theatre for upfront presentations.
In anticipation of this dark period, the producers of Kinky Boots – Daryl Roth and Hal Luftig – adjusted the performance schedule in weeks leading up to the break. As a result, the weekly gross reports show an extraordinary decline for Kinky Boots. In the week ending May 11, 2014, the show only grossed $668,658.
"Kinky Boots" Grossing Well Over One Million Dollars
Though this may not be that low for other shows, even for other musicals, that represented a loss for Kinky Boots of $808,892 from the week before, when it earned $1,477,550. The highest weekly gross that the show has earned thus far is $2,247,240, when it played nine performances in the week ending December 29, 2013.
As for eight performance weeks, its weekly gross record is $1,912,568 from the week ending December 1, 2013, when it made an extraordinary 124.61% of its gross potential. Nonetheless, the show has still been grossing well above one million dollars throughout all of 2014 so far, and it looks to continue to be a favorite pick among visitors to New York City.