King Kong to Take the Foxwoods Following Spider-Man's Closure
King Kong Premiered In Melbourne Australia And Is Scheduled To Open On Broadway In December At The Foxwoods Theatre In A Colossal Production.
---
After Success In Australia, King Kong Comes To Broadway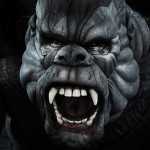 It seems that the Foxwoods Theatre on 42nd Street can't get enough of multi-millionaire-dollar mega-musicals. After it was announced that the infamous spectacle Spider-man: Turn Off the Dark would be closing (the superhero musical shuttered on January 4), it became known that another well-known figure -- King Kong -- wanted to move in.
The new musical King Kong, which had its premiere in Melbourne, Australia, will come to Broadway late this year, with an opening scheduled for December 12, 2014. Written by Craig Lucas and Marius de Vries, King Kong brings the story of a gigantic silverback who gets loose in the city to the Broadway stage.
Colossal Production With High Hopes
And if Spider-man, with its high-flying theatrics, seemed like a stage spectacle, King Kong is perhaps even more epic. The show features a cast of 49, a 76-person crew, and one enormous animatronic gorilla. The Foxwoods Theatre is one of the few Broadway theaters that is actually large enough to take on this colossal production.
Discount Broadway Tickets
---
---