Kenneth Lonergan's "Lobby Hero" Concludes Run
Kenneth Lonergan's Lobby Hero Closed on Broadway, Following a Run With Positive Reviews But Moderate Box Office, and Three Tony Nominations
---
Two and a Half Months of Critically Acclaimed Production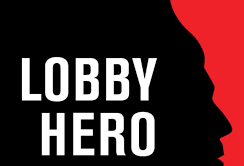 On May 13, 2018, Lobby Hero played its final performance at the Helen Hayes Theatre. The show had been running there since its first preview on March 1, 2018, ahead of its opening night on March 26, 2018. The play is written by Kenneth Lonergan, whose work, until recently, was relegated to Off-Broadway and cinema. That was until 2014, when a production of his play This Is Our Youth made its Broadway debut, starring, among others, Michael Cera, who also stars in Lobby Hero.

The cast of Lobby Hero also includes Bel Powley (Arcadia), Brian Tyree Henry (Atlanta), and Chris Evans (Captain America), making his Broadway debut. The director is Trip Cullman (Significant Other, Six Degrees of Separation). This fall, a production of Lonergan's play The Waverly Gallery will make its Broadway premiere. The main reason that Lonergan is now invited into the mainstream has a lot to do with his success on screen. Most notably, he wrote and directed the film Manchester by the Sea, which was nominated for multiple Academy Awards, and earned him the honor for Best Original Screenplay.
Three Tony Nominations, Rave Reviews, Moderate Box Office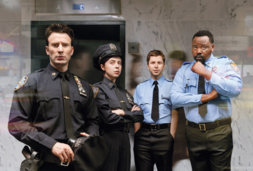 While Lobby Hero has now closed, it is still a contender for this year's upcoming Tony Awards. The show has been nominated for three Tonys, including Best Revival of a Play (although it is the play's Broadway debut, the show has been mounted in New York before), as well as two nominations for Michael Cera and Brian Tyree Henry. Notably, Chris Evans, despite receiving excellent reviews for his performance, was not honored with a Tony nomination. Bel Powley was also not nominated.

Nevertheless, the entire production and all of the cast earned excellent reviews upon the show's opening night in late March. The New York Times deemed it "meticulously acted" with performances "so grounded that you never doubt their characters' authenticity." The Hollywood Reporter also loved the show, stating that Chris Evans "absolutely" makes the leap from Captain America to believable New York City cop. The Daily News also gave a rave review to this "funny-sad play," and Entertainment Weekly also loved this "sparely staged four hander."

Lobby Hero Proved To Be A Tough Sell
Over the course of the run, the average percentage reached of gross potential amounted to 69.53%, with the average paid admission coming to $99.83. With a top ticket price of $299.00, the average audience capacity throughout the run was 95.30%, and the total box office gross was $4,795,126. With running costs accounted for, this show is unlikely to have come close to recoupment.

Unfortunately, even if the show takes home the Tony Award for Best Revival or Best Performance by a Featured Actor, the news will be too late to make an impact on the box office grosses for this already shuttered production.
Discount Broadway Tickets
---
---