Kenneth Lonergan's "Lobby Hero" Begins Previews
Kenneth Lonergan's play Lobby Hero began Broadway performances starring Michael Cera, Chris Evans, Bel Powley, and Brian Tyree Henry, directed by Trip Cullman.
---
A Play Written by the Filmmaker of "Manchester by the Sea"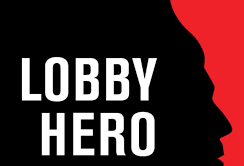 On March 1, 2018,
Lobby Hero
began previews at the Helen Hayes Theatre in a production by Second Stage Theater, which recently purchased the Hayes theatre. In doing so, they became the newest not-for-profit theatre institution to have a home on Broadway. Roundabout, Manhattan Theatre Club, and Lincoln Center have already been operating on the Broadway level for years now, and it is a major achievement for Second Stage to step up into the big leagues along with this major players. This show is a great pick for them, as it has big stars and also a lot of legitimate theatre credibility, as Kenneth Lonergan is one of the rare writers who works seamlessly between screen and stage. Last year, Lonergan wrote and directed the film
Manchester by the Sea
, starring Casey Affleck and Michelle Williams, which won the Academy Award for Best Original Screenplay among other honors. Nevertheless, Lonergan's roots are in the theatre. His first theatrical success was
This Is Our Youth
in 1996, which made its Broadway debut in a recent revival in 2014. His other plays include
The Starry Messenger
,
The Waverly Gallery
, and
Hold On to Me Darling
. Meanwhile, for the screen, he wrote the screenplays for
Analyze This
,
Analyze That
,
The Adventures of Rocky and Bullwinkle
,
Gangs of New York
, and
Howard's End
, and his credits as writer-director, in addition to
Manchester by the Sea
, include
You Can Count on Me
and
Margaret
. It is therefore a timely choice to bring back Lonergan's
Lobby Hero
, and this time on Broadway, starring a very exciting cast.
Michael Cera, Chris Evans, Bel Powley, Brian Tyree Henry Star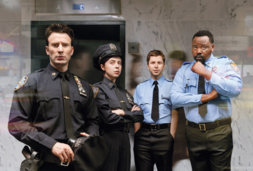 Lobby Hero
is a play with four characters in it. The story involves a young security guard named Jeff who is unsuccessful with women, his strict supervisor William, an young female cop named Dawn, and her overbearing senior partner Bill, who shows a romantic interest in her. Like much of Lonergan's work, the play is above all about the characters and their interactions, and here the plot also involves a murder investigation. In this production, the part of Jeff is played by Michael Cera, continuing his collaboration with Kenneth Lonergan, as his only other Broadway performance so far was the 2014 Broadway production of Lonergan's
This Is Our Youth
. Cera is also well known for such screen roles as the sitcom
Arrested Development
and the films
Superbad
,
Juno
, and
Scott Pilgrim vs. the World
. In addition, the role of Bill in
Lobby Hero
is played by Chris Evans, making his Broadway debut. Evans is a
bona fide
movie star and a regular performer in the Marvel franchise films, with roles in such films as
Not Another Teen Movie
,
Scott Pilgrim vs. the World
,
Snowpiercer
,
Gifted
,
The Avengers
,
The Iceman
,
Captain America: The Winter Soldier
,
Playing It Cool
,
Avengers: Age of Ultron
, and
Captain America: Civil War
. The role of Dawn is played by Bel Powley, a British actress who made her Broadway debut as Thomasina Coverly in the 2011 production of Tom Stoppard's
Arcadia
. In addition, her film credits include
Diary of a Teenage Girl
,
Wildling
,
Mary Shelley
, and
Carrie Pilby
. Finally, the part of William is played by Brian Tyree Henry, who previously has been on Broadway in the ensemble of
The Book of Mormon
, and whose screen credits include the role of Alfred "Paper Boi" Miles on the series
Atlanta
, as well as films including
Hotel Artemis
,
If Beale Street Could Talk
, and
Crown Heights
. The play is directed by Trip Cullman, whose previous Broadway directing credits include
Six Degrees of Separation
,
Significant Other
, and the upcoming production of
Choir Boy
. The show is currently scheduled to run until May 13, 2018.